BROADSWORD: Age of Chivalry Smashes Onto Apple® iOS and iPads in the Americas and Asia
Press Release
-
Oct 20, 2015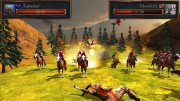 Berkeley, CA, October 20, 2015 (Newswire.com) - HR GAMES today announced that it has released the highly anticipated medieval game BROADSWORD: Age Of ChivalryTM for the iOS mobile phones and iPads mobile devices for the Americas and Asia.  Based on famous historical events and set in the medieval period, BROADSWORDTM is a 3D turn based strategy game that allows players to recreate classic single and two player gaming experiences managing your resources, fighting your enemies and conquering new lands.
BROADSWORD: Age Of ChivalryTM boasts turn-based strategy gameplay as players move from mission to mission in the Middle Ages. Command one of four different armies: the English, The French, the Spanish, or the Hapsburgs in this exciting iOS experience!  Lead different types of units into battle -- from archers, knights, pikemen and catapults along with special units per nationality.  Command special 'hero' units such as Henry III, Joan of Arc and El Cid, among others whose special 'hero' powers can affect the entire battlefield. Broadsword allows players to construct buildings to raise units and create resources for their empires, as well as research technologies. Some details include:
Command one of four different civilizations: the English, the French, the Spanish, and the Hapsburg Empire with more to become available!
Watch your troops fight boldly in full 3D Battle Action!
 
Take control of special 'Hero' units like Henry III, Joan of Arc, El Cid and others who command special 'hero' powers affecting the entire battlefield.
 
Command different types of units from archers, knights to

pikemen

, catapults and more.
 
Optional features such as FOG of WAR, Graphic Detail and more.
 
Two Campaigns included with more to become available
 
Play on a variety of maps in distinct weather conditions.
 
Terrain has a direct affect on players strategy and combat
 
Turn-based combat keeps the battle moving at the player-preferred pace.
 
Players construct & upgrade buildings like town centers, mines, mills, and farms to raise units and create resources for their empires!
 
Champion Mode allows players to test their mettle against the AI.
 
Units will reach Veteran Status and gain experience as the campaign wears on!
 
Players research different technologies like Forestry, ballistics, husbandry and more to take their empire into the next tech level.
 
Combat Advisor provides an indication of how the battle might go.
 

Multiplayer

scenarios allowing up to 2 players using

Gamecenter

.
 
Unlock maps, units & new campaigns through In

App

Purchase.
 
Original music from German film composer Jan

Morgenstern

.
 
Full

Hotseat

support for playing face to face!
 
Complete

Gamecenter

support for

Multiplayer

play!
 
Earn Awards as you achieve great renown!
"We are excited about bringing the BROADSWORD: Age Of ChivalryTM experience of the millions of iPhones and iPads worldwide.  Gamers have been looking for a turn based strategy game on iOS and iPads like BROADSWORD for a long time and now it is a reality." said Manny Granillo, CEO of HR GAMES. "Having a compelling game that you can play with a friend remotely while not losing the thrill of strategy was a difficult task.  We hope that everyone will give it a try!"
BROADSWORDTM is currently available on Android mobile devices and on the PC.  Watch for it on consoles very soon.
About HR GAMES
HR GAMES is the publishing arm of Hoplite Research, LLC.  As a developer, publisher and marketer of interactive entertainment software, Hoplite Research, LLC is currently celebrating its 14th year.  Hoplite Research, LLC creates intellectual property and games through technology, innovation, and design on console, online, arcade, PC, Mac, and mobile devices.
©2014-2015 Hoplite Research LLC  All Rights Reserved.  BROADSWORD: Age of Chivalry is a trademark of Hoplite Research, LLC.  Published by Hoplite Research, LLC. The information on this site has been prepared by third parties, and Hoplite Research, LLC does not monitor, endorse or accept responsibility for the content on non-Hoplite Research, LLC sites.
MEDIA CONTACT
HR GAMES
John Cunningham
johnC@hoplite-research.com
Share:
---
Categories: Video Games
Tags: Android, BROADSWORD, HOPLITE RESEARCH LLC, HR GAMES, PC, STEAM
---