Blue Devils Return to Taiwan This December
Press Release
-
Nov 30, 2015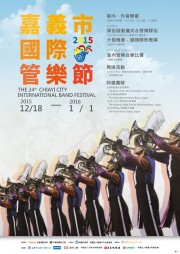 Concord, CA, November 30, 2015 (Newswire.com) - ​The Blue Devils are sending a 36-member ensemble to Chiayi City, Taiwan this December 14-21, marking the organization's third visit to Taiwan since 2012. This trip will have the Blue Devil's serve as a feature performer at the 24th Chiayi City International Band Festival, the largest and oldest music festival in Taiwan. The Blue Devil's will perform at the festival's Opening Ceremonies and Parade and as the closing act at the Marching Band Showcase while also presenting two main-stage concerts and several System Blue clinics.
Presented by the Chiayi City Department of Cultural Affairs and managed by CSR Summit Brands Marketing, this multinational festival begins December 18 and goes to January 1, 2016. The Blue Devils are excited to make yet another appearance in Asia, having presented Blue Devil ensemble performances and System Blue clinics in Taiwan in 2012 and 2014, and in Malaysia in 2010 and 2013, a Blue Devil drum line performance in South Korea in 2007 and Blue Devil ensemble performances in Japan in 1996, 1998, 2002, 2003 and 2007.
A special part of this year's trip will include performing with Taipei Yuehfu, Taiwan's premier drum and bugle corps. "We are very excited to have the chance to collaborate with the Blue Devils in our homeland"  states Taipei Yuehfu director Paradox Chen. "I believe together we will bring the audience something quite special!"
Connie Dao of CSR Summit Brands Marketing, an arts and festival management company, states that "we are very happy to have the world-famous Blue Devils come to Chiayi City as part of this great festival, which will highlight performers from a wide variety of music and art styles."
David Gibbs, Executive Director of the Blue Devils, is excited to include this trip as part of the organization's growing One Music One World initiative, an effort that allows the Blue Devils organization to integrate its members and teaching staff with System Blue Clinics in order to serve a variety of international requests.
Says Gibbs, "We believe strongly in the value of international exchange and are proud to be able to expose current and former Blue Devil members to a variety of international experiences while bringing our unique brand of entertainment and excellence in education to fans around the world."
The BD Performing Arts Association's "One Music, One World" initiative began in 2010 and has since sent Blue Devil performers and System Blue clinicians to nations as wide-ranging as South Africa, Brazil, Mexico, Guatemala, Lithuania, Malaysia, China, Italy and Taiwan while the 100-member Blue Devils International Corps just this past summer mounted a successful 4-country European tour  with performances and clinics in England, Holland, Italy and culminated with a week of performances at the legendary Basil Tattoo in Switzerland.
To learn more about the Blue Devils' One Music One World initiative, visit bluedevils.org/about/omow.
To learn more about System Blue Live Events and Clinics, Products, and Publications, visit systemblue.org.
Share:
---
Categories: Music, Performing Arts, Arts and Entertainment
Tags: bdworld, blue devils, dci, drum corps international, marching band, one world one music, system blue, taiwan
---