Bill Kurzenberger To Release Third Album 'Resonate' In May
Ohio-Based Keyboardist/Singer/Songwriter's Expansive CD Features Nine Songs Recorded With Fourteen Bandmates
Press Release
-
updated: Apr 9, 2015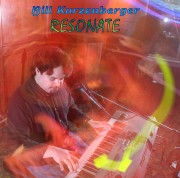 Columbus, OH, April 9, 2015 (Newswire.com) - For Columbus, Ohio-based keyboardist Bill Kurzenberger, his new album 'Resonate' shows that good things come to those who wait. Recorded over nine months in 2014, 'Resonate' is an expansive release that features Kurzenberger's original songs recorded with combinations of fourteen established Ohio-based musicians, including the Bug Hounds, KrisB's Midnight Railroad, Ian Carroll, Travis Gates, Scott Maruskin, Lou Schocken and Eric Ransom. 
Although Kurzenberger originally conceived the idea of bringing his multiple band projects into the studio when recording 2005's 'Suspending Disbelief' and 2010's 'Solitary Road', the idea proved to be too ambitious at that time.  Then in 2014, the Recording Workshop provided the opportunity for his various projects to record a series of recording sessions with engineer Greg Jennings, facilitated by recent Recording Workshop graduate Lou Schocken. Based on the musicians' availability, Kurzenberger organized fifteen sessions with the Bug Hounds, Terrapin Moon, KrisB's Midnight Railroad, Eric Ransom, Schocken, and as a solo artist.  For those sessions that featured his original songs, Kurzenberger further produced these sessions at the Workshop with engineer Jennings, and mastering by Jason Shaffer at Full Tilt Productions in Mechanicsburg, Pennsylvania.  The end result is a far-reaching album with nine original songs covering vast musical ground tonally - varying from the Bug Hounds' brass horn section to string accompaniment to acousticized songs highlighted by Kurzenberger on grand piano.  Stylistically, his original songs included on 'Resonate' stretch from Americana to rock and blues tinged with a hint of New Orleans.
"One of Ohio's hottest singer songwriters... the more I listen to Bill's stuff, the more I like it."
Kurzenberger's album release party for 'Resonate' is set for Friday May 8th at Woodlands Tavern in Columbus.  Each of the projects that contributed to the album are scheduled to perform, as well as Terrapin Moon, concluding with an all-star jam session of Bill Kurzenberger's Resonation. The CDs will be available for sale at the album release party, as well as online at CDBaby.com.  The songs from 'Resonate' will also be available via digital distribution on Apple iTunes, Amazon, Spotify, and several additional music outlets.
Kurzenberger is also scheduling appearances on area radio stations to coincide with the album's release, including an appearance on "The Greatest Story Ever Told Radio Show" on WAIF 88.3FM in Cincinnati on May 7th. More information about Kurzenberger's new album and related media appearances can be found on his official website www.billsmusic.net.
---
Categories: Music, Marketing, Arts and Entertainment
Tags: cd release, columbus ohio, entertainment. new album, music, songwriter
---