Author Paul Matarelli Embarks on NYC Tour to Promote Novel All Roads Lead West
The fiction book follows a young man leaving his career in media to follow his dreams out west.
Press Release
-
Apr 27, 2015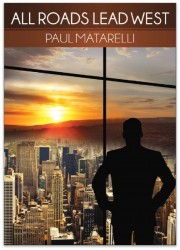 Bountiful, UT, April 27, 2015 (Newswire.com) - Paul Matarelli, an experienced media professional and author, is undertaking a book tour in New York to promote his new novel, All Roads Lead West.
This new book follows Jamie Hayden, a young man who has become disillusioned with his life in New York City: working in the high-pressured, big-money world of television advertising, rubbing shoulders with superstar celebrities, and climbing the ladder towards a lucrative corporate-executive role. Jamie realises this path is one he no longer wants to tread, and wants to avoid the problems he sees ahead of him – office politics, backstabbing colleagues jealous of his position, and the prospect of spending what should be the best years of his life at desks and in conference rooms. He decides to change his life, and sets out to redefine his existence.
The corrupting influence of apparently-limitless money, drugs, and soulless sex has been explored by writers in films, novels, and television series before, but All Roads Leads West is very much set in today's NYC, written from the perspective of a twentysomething in the thick of it, searching for enlightenment. It was also written by an author with years of experience among people who work hard and 'unwind' even harder – his work carries plenty of truth. 
Alongside his writing career, Paul Matarelli is also a musician and entrepreneur. He has interned at Epic Records, worked for some of New York's biggest media companies as an account executive, as well as a media buyer and sales associate. Born in a small town outside of Chicago, Paul relocated to New York, where he still lives.
"All Roads Lead West was inspired by my time in NYC, working with some of the top media firms and the dynamic people that keep them at the peak of success," Paul Matarelli said. "The response to the book has been great, and so I'm excited to meet readers on this tour. I love New York, and feel proud to have written this novel about it – scars and all."
For more information on All Roads Lead West, visit http://allroadsleadwest.com/
About Paul Matarelli:
Drawn to New York City by his lifelong love of music, Paul Matarelli secured an internship with Epic Records, before moving on to work for some of the city's largest media companies, as a buyer and sales associate. All Roads Lead West is available now.
Contact:
(385) 399 2125
Share:
---
Categories: Books, Vacations and Travel, Business
Tags: advertising, authors, corporate america, dreams, fiction book, media, passion
---