Author Ben Robertson Releases Young Adult Historical Novel 'The Last Generation'
The epic tale of Bridget Thorsdottir and the Greenland Vikings
Press Release
-
updated: Oct 15, 2015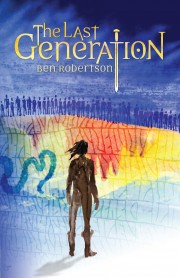 Keene, NH, October 30, 2014 (Newswire.com) - ​​First time novelist Ben Robertson delivers equal parts action and history, adventure and philosophy in this epic novel of the late the Middle Ages. The Last Generation is set in the Eastern Colony of Norse Greenland in the year 1501, at the onset of the Little Ice Age and the Reformation. The Vikings first settled in Greenland around the year 1000, but now these once free people have given up their freedom to serve a greedy bishop and his English cohorts, who see the opportunity to profit from the booming North Atlantic cod fish trade. 
When the bishop announces that the colony will relocate to Newfoundland, seventeen-year old Bridget Thorsdottir, who lives in the remotest part of the colony at Dyrnes, believes she and her family must flee Greenland . Bridget's father, Thor, will not listen to her and refuses to abandon the land left to him by his Viking ancestors. Driven by nightmares of the encroaching ice, Bridget runs away with her step-brother Bjorn, hoping to find a new home and return at the end of summer. But when Bridget seeks help from her mother's people, the nomadic Inuit living to the north, events at home force her back to the colony to confront the bishop and save her family. 
The Last Generation is now available on Amazon and Amazon Kindle.
Paperback: 390 pages
Publisher: Menadena Publishing (September 4, 2014)
Language: English
ISBN-10: 098352680X
About Ben Robertson
Ben Robertson is an actor, author, and strategy consultant, with his company Menadena Consulting. In 2014, Ben published The Last Generation, an Amazon best-selling young adult historical novel about the Greenland Norse. As an actor, Ben is a member of the Screen Actors Guild and won the New Hampshire Film Festival award for Best NH Performance.
Ben worked in banking and finance for over twenty years, starting his career at The Chase Manhattan Bank and later working in private equity, venture capital, buy-side stock research at a leading small-cap value asset management firm, and sell-side research in Taipei, where he was at ABN Amro Asia, Taiwan's best equities research team as ranked by Institutional Investor. Ben was a founding partner and CFO of Fuel Bio, which at the time was the largest biodiesel manufacturing facility on the East Coast.
Ben received his MBA from University of Chicago Booth School of Business, where he was selected for the Kauffman Internship Program, funded by the Ewing Marion Kauffman Foundation, and led the first place winning team in the Edward L. Kaplan New Venture Challenge. Ben studied Chinese at Northfield Mount Hermon School, Fudan University, Beijing Normal University, and Wesleyan University, where he received a BA in East Asian Studies.
Ben serves as treasurer on the board of the Monadnock International Film Festival and is a screenplay competition judge and social media coordinator for the New Hampshire Film Festival.
Ben lives and works in Keene, New Hampshire.
Learn more at www.benrobertson.net
Share:
---
Categories: Books, Religion, Home Schooling
Tags: Christian Historical Fiction, Exploration & Discovery, Greenland Norse, Historical Adventure, Inuit, Juvenile Fiction, Middle Ages, Reformation, Vikings, Young Adult Action, Young Adult Adventure, Young Adult Historical Fiction
---