Atlas Shrugged Partners With Proud Producers
Proud Producers Named as New Official Reseller of Atlas Shrugged Merchandise
Press Release
-
Nov 12, 2015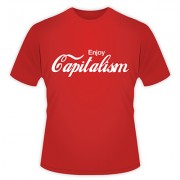 Los Angeles, CA, November 12, 2015 (Newswire.com) - Atlas Shrugged Movie Merchandise announced today that Proud Producers will be its new exclusive reseller of official Atlas Shrugged merchandise.
"I'm very excited to have the opportunity to partner with Atlas Shrugged to offer our customers official Atlas products. Ayn Rand and Atlas Shrugged have been incredibly influential in my life, and I couldn't be more proud," said Chris Landon, CEO of ProudProducers.com.
Proud Producers sells customizable products including t-shirts, hats, stickers, drinkware, and more, that feature Atlas Shrugged characters, quotes, and other capitalist themes.
"When we were looking for an official reseller, Proud Producers was an obvious choice. They have a long history of supporting capitalism and Atlas Shrugged. We're very proud to now call them our partner, and we look forward to working with them when the Atlas Shrugged television series debuts," said Scott DeSapio, CIO of Atlas Shrugged Movie Merchandise.
Currently in development, the television series will be an adaptation of Ayn Rand's 1957 novel, "Atlas Shrugged", which centers on a dystopian society where nearly all of the most productive have mysteriously disappeared while the government continues to drive the economy to collapse by regulating and imposing its brutality on the country's few remaining entrepreneurs.
- - - - - - -
About Atlas Shrugged Movie Merchandise
Atlas Shrugged Movie Merchandise was formed by John Aglialoro to distribute products based on the trilogy adaptation of Ayn Rand's epic novel, Atlas Shrugged. For more information, visit http://www.AtlasShruggedMovie.com​​
About Proud Producers
Proud Producers focuses on the manufacturing and selling of pro-capitalism products via the theme of Ayn Rand's Atlas Shrugged. For more information, visit http://www.ProudProducers.com​
Share:
---
Categories: Books, Movies, Fashion and Apparel
Tags: Atlas Shrugged, Ayn Rand, Movie Merchandise, Movies
---