Announcing Fleet 2.0: Reducing the Stress and Anxiety of Holiday Air Travel Through Crowdsourcing and Design.
Fleet, a virtual assistant app for air travel, now offers enhanced flight tracking features and an expanded airport database to make flying less stressful.
Press Release
-
Dec 8, 2015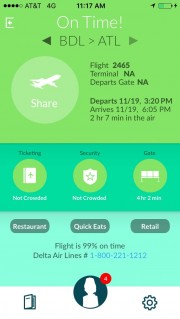 Washington, DC, December 8, 2015 (Newswire.com) -  Just in time for holiday travel, Fleet provides personalized updates on flight times, information about airports, and communication between travellers, friends, and family. In addition to flight status updates, Fleet uniquely includes line conditions at check-in and security using a combination of crowd-sourced and historical data. Fleet also features an extensive airport directory that automatically uses a traveler's geographic location to find and recommend nearby stores and restaurants.
Building on an award-winning foundation, Fleet 2.0 now offers enhanced features to support connecting flights along with a completely redesigned user interface. Also new in this release is an option for users to follow the flight of a friend and receive updates on when that friend's flight lands.
"As friends and family members fly for the holidays, Fleet's new follow feature is an easy way to stay updated on their travel," said Fleet UX researcher & Chief Financial Officer Melissa Smith. "As user experience researchers, we designed Fleet to address the every day issues around the travel experience at the airport, but now we improved the app by offering the same benefits to anyone who wants to follow the flight of friends and family."
"Fleet provides the most comprehensive support to air travelers at every stage in their journey," adds Daniel Gartenberg, M.A., Fleet's Chief Technical Officer. "User research and feedback has helped us make one of the most comprehensive air travel apps available even better at reducing traveler anxiety."
Fleet is now available for download in the Apple App Store.
About Fleet
Founded by a team of psychologists, designers, and computer scientists with a common goal of reducing anxiety associated with air travel, Fleet is a virtual assistant app that combines crowd-sourced updates with commercial flight and airline data to get travelers the information they need when and where they need it. Fleet won first place in a design competition for innovative application of FAA data, and is now available in the Apple App Store to help travelers everywhere fly with less stress and anxiety. Learn more at www.FlyFleet.org.  
Contact
Jordan Higgins
jordan@flyfleet.org
703-338-1579
---
Categories: Travel, Business Travel, Personal Travel
Tags: air, airport, app, flight, holiday, iOS, travel, vacation
---