AGROWN Sets Direction for US Controlled Environment Agriculture Growth
Attendees from the US, Holland, Canada, UK and Italy exchanged information, ideas and plans related to the need to grow the controlled environment agriculture industry in North America by creating industry-based commercial research and knowledge transfer center- the first of its kind in the US.
Press Release
-
Sep 16, 2015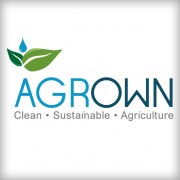 BRATTLEBORO, VT, September 16, 2015 (Newswire.com) - AGROWN  LLC sponsored a one- day conference on Sept. 8 at the Vermont Agricultural Business Education Center (VABEC). Participants reviewed the facility as a possible location to site the first US R&D/Training center for controlled environment agriculture (CEA), water and energy.
AGROWN CEO Dr. Sue Raftery stated: "We had 24 attendees on site, over a dozen attendees online with real time interface and nearly 100 following the program on Twitter."
Global financial firm William Blair & Company identified three major drivers for US industry growth:
1. Consumer requirement for local, accountable, safe food 
2. Climate change dramatically affecting the US food basket in California 
3. The need to redistribute food production across the US for food security as the country adjusts to water issues and potential extremist actions.  ​
​William Blair & Co. believes "it will take a $1.75T investment for the US to become self-sufficient in its fresh vegetable and fruit requirements, which would expand high-paying jobs and related support sectors."
Representatives from global horticultural firm Priva and multinational industrial firm Pentair gave presentations on worldwide governmental trends in reacting to climate issues and opportunity to test and innovate in this high-growth industry, respectively. Furthermore, Pentair's representative said this growth can easily outstrip last decade's growth in the ethanol industry.
Aeroponica International reviewed the property as a potential North America base for detailed R&D.
Join the conversation about the CEA industry's future at AGROWN's AgTech Investing Conference, 21-23 October 2015.  Space is limited! Register here.
About AGROWN LLC
AGROWN is a turnkey CEA consulting and services company including financing, pre-construction plan, building/construction and growing and packaging equipment selection, recruiting head grower(s), recruiting and training operations employees, compliance and audit management, operations management, and marketing/sales through industry partners.  
For additional information contact:
Sue Raftery, Co-Founder/CEO, AGROWN (419) 677-9109, sraftery@agrown.net;
Steve Jones, Board Member, AGROWN (606) 584-4007; or visit agrown.net.
Share:
---
Categories: Water, Sewage, and Septic Systems, Agriculture and Horticulture
Tags: agriculture, agtech, cleantech, climate change, food, food security, green, hydroponics, indoor agriculture, investment, renewable energy, sustainability
---