10-Year-Old Santa Opens Elf Factory for Families in Need
5th grade boy is on a mission to make holiday toy drives more meaningful by making them personal.
Press Release
-
Nov 27, 2015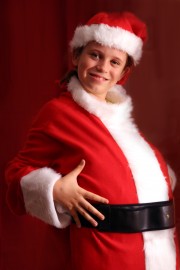 Jensen Beach, Florida, November 27, 2015 (Newswire.com) - It's that time of year when the pressure is on and cardboard boxes for unwrapped toys are everywhere you go.  Four years ago at this time, then 6-year-old, Jamie Ashbourne, didn't like the idea of not being able to see where toy donations went.  He wanted to contribute, he just though it could be done on a more personal level.  Dumping unwrapped toys in a cardboard box was like nightmare scene in the Toy Story movie to him. He started wrapping his donations and then convinced his mom to buy more until he had a sack of toys that would rival Santa's. He glued together a Santa suit and waited for Mom to find a place he could deliver the goods.  But everyone refused him. He was set in his desire to take the sack somewhere to see the children's reactions, but it was just days before Christmas and most toy drives were already finished, those that weren't, refused wrapped gifts.  Finally a kind woman understood the Jamie's story and pointed him to a local daycare that had families in need.  By the time he was finished with the plan, there was not a dry eye in the house.
For the last three years, Jamie has collected donations, toys and gifts to fulfill wishes submitted from children's letters to Santa, he even sent huge boxes of gifts to those affected by Superstorm Sandy in the second year.
This year, he's got families to adopt and will be visiting the children of the same daycare, in Stuart.  Jamie's Elf Factory is set up to take donations and wishes online, at elffactory.org or you can just visit and read about one little guy on a mission to make sure everyone feels like someone is looking out for their personal happiness.
---
Categories: Society
Tags: #elffactory, #givingtuesday, #holidaydonations, #holidaygiving, #toydrive, #toysfortots
---