YUCHIP Hot Sale P2.5 LED PostAir Sold More Than 500 Pieces in July 2019
Press Release
-
updated: Aug 23, 2019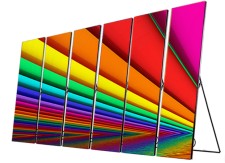 SHENZHEN, China, August 23, 2019 (Newswire.com) - As an enterprise determined to become the leading brand in the LED display industry, China LED display pioneer and leader YUCHIP constantly integrates traditional design concepts of indoor and outdoor display screens and explores a brand new product development path by optimizing and upgrading core functions. LED Poster is a highly integrated portable LED display product specifically developed for indoor HD display applications. Nowadays, based on the traditional LED PostAir appearance design, YUCHIP has added more installation methods, endowed LED PostAir with 90 degrees to stand, movable wheels, wall-mounting, hanging up installation and other installation methods. It has an ultra-thin shape and supports asynchronous mode, Wi-Fi mode, USB mode and 4G control. This announces the arrival of the era of the LED PostAir revolution.
At present, based on YUCHIP's competitive advantages in many core technologies, such as installation mode, customizable sizes, pixel spacing and resolution, YUCHIP has successfully developed and implemented industry-level solutions, with customized LED PostAir as its core product, through a long period of research and testing.
Differentiated positioning, a variety of installation methods available
LED PostAir is a new type of indoor advertising media. Compared with other forms of publicity, LED PostAir is easier to be accepted by consumers. Currently, YUCHIP has gained a number of competitive advantages in LED PostAir's core technologies. YUCHIP LED Poster can be installed in creative ways, supporting many kinds of installation methods, such as standing, hanging, leaning, assembling, etc. Flexible and light to use, different application scenarios need different installation support. At the same time, an HDMI cascade can be used to form a 16:9 golden ratio and other pictures. It won the love of numerous consumers at home and abroad.
Unique design, wide application
LED Poster is suitable for conferences and exhibitions, shopping malls, supermarkets, government agencies, corporate publicity, brand chain stores, hotels, exhibitions and other scenes. Different designs are suitable for different occasions. LED PostAir can transmit information with much higher quality and accuracy than other media and can change the broadcast content at any time according to the market demand. Its real-time and high-speed switching content is more convenient to attract consumers' eyes and bring a more intuitive experience to users. LED PostAir's promotions are one-on-one, rational and it builds long-term relationships by providing timely information to consumers.
LED PostAir can spread multimedia information. LED PostAir can provide timely, comprehensive, high-quality and efficient information services, and greatly improves the atmosphere of its surrounding environment. At the same time, printing, mailing and expensive TV advertising costs are reduced... and the communication mode can perfectly replace traditional advertising modes, such as flyers, newspapers and TV advertisements.
YUCHIP continues to improve its future layout with the hope to gain a global voice
LED PostAir is part of a new generation of intelligent devices, using terminal software control, network information transmission and multimedia terminal display to form a complete advertising broadcast control system. The original idea of LED Poster was to change advertising from passive to active. LED PostAir's interactivity gives it the ability to serve in more public places to attract active browsing.
YUCHIP is determined to become a pioneer and standard setter in the LED display industry in China, striving to integrate the LED display industry completely and organically. In the next half year, we will further improve the enterprise service and provide a one-stop service for customers. Meanwhile, we will integrate years of experience in the planning, design and development of LED displays to provide information solutions for LED displays to meet the special requirements of different customers. In addition, we will actively look for partners to use customized LED displays to solve the problem of interconnectivity between different environments and different products. Only by creating new categories and leading the new value system can we launch new market competition and embark on the road of value upgrading through brand promotion. LED PostAir is built on the basis of Advertising media promotion, so it must change the traditional concept and meet the needs of consumers in order to have the advantages to occupy more future markets.
Source: SHENZHEN YUCHIP LIGHTING CO., LTD
Share:
---
Tags: Advertising media promotion, indoor advertising media, LED Poster, LED Postair, YUCHIP
---