Walking With America Tour Kicks Off With Walk With Me Event in South Lake Tahoe, CA
Walk With Me Kick-Off Hosted in South Lake Tahoe, CA
Press Release
-
updated: Jan 31, 2018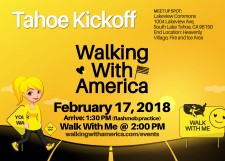 South Lake Tahoe, January 31, 2018 (PressRelease.com) - Join Sheryl Lynn on Sat, February 17th, at Lakeview Commons, to kick off the Walking with America tour. The Walk with Me Kick-off will include an exciting day of walking, flash mobs, food, music, and fun. Mayor Wendy David, of South Lake Tahoe, will be a special guest as she supports Sheryl Lynn's efforts of getting the people of Tahoe walking, as well as communities across the United States.
At 2:00pm the kick-off will begin with a two mile walk to Heavenly Village, leading to the first Healthy Happy Hour hosted at Fire and Ice. To find out when the Walking With America tour will be stopping in a city near you, please visit the Walking with America website walkingwithamerica.com.
 
If you interested in joining the Walk with Me flash mob, click here to practice the choreography at home.
 
On my journey I will be igniting participation, laughter, and fun. I invite people from all over the country to take control of their health and happiness, and WALK WITH ME!
Schedule of Kick-off activities below:
1:30 - Flash mob practice - Lakeview Commons
1004 Lakeview Ave, South Lake Tahoe, CA 96150
2:00 - Walk begins - Lakeview Commons
3:00 - Healthy Happy Hour begins - Fire and Ice
4100 Lake Tahoe Blvd, South Lake Tahoe, CA 96150
3:30 - Flash Mob - Fire and Ice
About Walking with America:
Walking with America (WWA) is Sheryl Lynn's mission of adventuring from Key West, FL to San Francisco, CA, all while igniting participation, laughter, and fun. From April 1st until October 1st, Sheryl will walk across the United States and encourage others take their health and happiness into their own hands by hosting Healthy Happy Hour events, getting communities up and out to walk with her, and engaging with youth organizations to inspire healthy lifestyles.
Media Contact
Kenya Hooker
The Hooked Agency
info@thehookedagency.com
(704) 919-6883
---
Tags: Exercise, Health, Tourism, Travel
---