VR Bangers Unleashes First 'Hack' Ever for PSVR Stereoscopic 3D Videos
Press Release
-
updated: Mar 15, 2017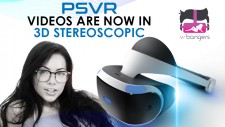 Los Angeles, CA, March 15, 2017 (Newswire.com) - Adult VR fans that got their hands on hot new PlayStation VR devices have been clamoring for the best adult videos in formats perfectly suited to their new gaming device. Now every VR experience on VRBangers.com is 100% compliant with the PSVR, and this simple 4 Step tutorial makes it easier than ever for everyone to enjoy the best VR adult videos on PSVR visor right now.
Many people have been struggling with the fact the all their PSVR videos can only be watched in Mono, which was a big disappointment for PSVR fans. VR Bangers has now released a legal hack guide for PSVR fans that enhances their experience and enables them to watch all of the VR Bangers virtual reality videos in 3D Stereoscopic. The experience is mind blowing and gives a completely different fully immersing feeling as compared to the standard mono. Check out the simple tutorial guide now at: http://vrbangers.com/psvr/ (Must be 18+ to enter)
The PlayStation VR headset is one of the most talked about products of the year. It was released in October and has sold more than a million units to fans of virtual reality but accessing adult videos on the PlayStation VR device wasn't easy to do until now. According to Sony, most users spend multiple hours using it every single day, and stats from VRBangers show that many of those hours are enjoying fresh new VR adult content.
"PSVR on VRBangers is great for fans," explains Boris Smirnoff of VRBangers.com. "More choice leads to more customer satisfaction, and that correlates to even better conversions for affiliates, providing exciting opportunities for every webmaster who joins in to capitalize on the increasing popularity of adult virtual reality videos during its PSVR rise."
See for yourself, with the award winning content on www.VRBangers.com, the simplest PSVR tutorial, and updates every week that adult VR fans want to experience over and over again.
Source: VR Bangers LLC
Share:
---
Categories: Adult Entertainment
Tags: 4K resolution videos, Head Rig, Intimacy head camera, Pov Rig, PSVR, Sync videos, Technology, UHD, Virtual Reality
---