Veneno Tequila Awarded Prestigious Gold Medals
Press Release
•
updated: Jun 4, 2021
Veneno, an ultra-premium tequila brand, took home two gold medals for their Blanco and 7-Year Extra Añejo Tequilas.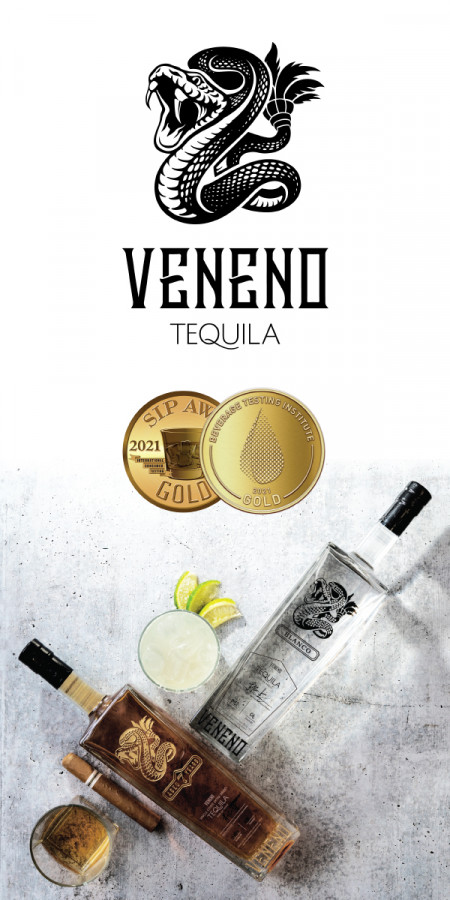 HOUSTON, June 4, 2021 (Newswire.com) - Veneno, an ultra-premium tequila brand, took home two gold medals for their Blanco and 7-Year Extra Añejo Tequilas. These prestigious awards come from the SIP Awards and Beverage Testing Institute.
The 2021 SIP Awards featured 1,183 submissions and judged by a diverse panel of consumers, the only competition with solely consumers as the judges. The SIP Awards is one of the top review authorities across the entire spirits industry. Veneno's Blanco and 7-Year Extra Añejo Tequila were given the gold medal for taste, going through a double-blind taste test. Gold medal spirits are "strongly recommended" according to the SIP Awards. Veneno Tequila has now been qualified for next year's 2022 Consumers' Choice Award.
The Beverage Testing Institute uses trained panelists following a blind tasting methodology. The 7-Year Extra Añejo was awarded a Gold Medal with a score of 93/100 in the May 2021 - Agave Competition. They describe the Añejo Tequila as a "delightfully balanced, nuanced, and inviting oak-forward Extra Añejo sipper that is sure to please."
Miguel Alanis, Senior Sales Director, says, "It is an honor to be recognized for being one of the best-tasting tequilas on the market. We are thrilled to accept these awards and will continue to launch into more markets around the country in the future." Veneno recently launched a third tequila to their premier inventory: the Reposado, a single-estate tequila, handcrafted with 100% blue agave grown in Jalisco, Mexico. It won't be long until Veneno takes the opportunity to submit the Reposado tequila into tasting competitions.
Right now, Veneno is only offered in the state of Texas; however, Veneno has plans to expand throughout the United States in the near future. All three tequilas are offered on their website, in select bars, restaurants, and liquor stores throughout Texas.
Veneno Tequila handcrafts their tequila in San Ignacio Cerro Gordo, Jalisco, Mexico. They are an ultra-premier tequila brand, offering three varieties of tequila. The award-winning brand will celebrate its two-year anniversary in September. To learn more about Veneno Tequila, visit https://www.venenotequila.com/.
Media Contact
Name: Miguel Alanis
Email: Miguel@venenotequila.com
Source: Veneno