Veloforte Unveils All-New Hydration Trio - Attivo, Vivo and Solo
Press Release
-
updated: Aug 13, 2019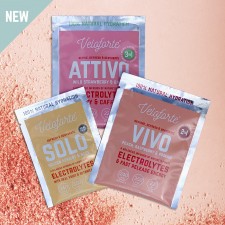 LONDON, August 13, 2019 (Newswire.com) - Veloforte, one of the leading sports nutrition brands and winner of two back-to-back Great Taste Awards, based out of London, has come up with another revitalizing culinary delight in their #fuelbetter series. Earlier this week, the company announced the launch of their all-new hydration range in an attempt to satisfy the increasing demand of existing customers for a new hydration product that can maintain body fluid levels for long and tough sessions.
Launched in three different variants, Attivo, Vivo and Solo, the new hydration range is aimed to help amateur and pro sports and training enthusiasts stay hydrated and perform at an enhanced level during whatever running, cycling or sporting challenge they take on. Infused with real fruit and botanicals, the three delicious hypotonic solutions, with an optimal balance of natural electrolytes, are claimed to keep the body's fluid levels topped up before, during and after exercise.​
Veloforte's existing range of natural energy bars and bites are already popular and much desired among cyclists, runners and endurance sports enthusiasts. With the launch of this new range, the company is hopeful of its stellar performance while also increasing its range. Made from a delicate mix of freeze-dried real fruit, dehydrated coconut water, and Himalayan Pink Salt, the USP of the hydration powders are that they're so real they capture the colours of the fruits. When water is added, fruit particles can actually be seen, which makes each mouthful a sensory experience.
"A lot of time – and I mean months of research – went into finding natural and delicious alternatives to the chemically derived hydration products, which flood the sports nutrition market," says Lara Giusti, founder and expert food alchemist, Veloforte. "Like our bars, I wanted our hydration drinks to be something to look forward to during long and tough sessions," says Lara. "The use of botanicals, in addition to real freeze-dried fruit powders, makes each product refreshingly different to keep your taste buds tickled and your hydration maintained all day long."
All Veloforte products are based on an ancient Italian fortifier — a delicious blend of fruits, nuts and spices and a specialty of Siena in Tuscany called Panforte. Panforte has been made by generations of the Giusti family and our recipes are fiercely guarded secrets.
Source: Veloforte
---
Tags: endurance cycling, endurance running, endurance sports, hydration powder, natural electrolytes, natural energy bars, sports nutrition, sports performance, sports training, veloforte
---