This Plush Doll on Kickstarter is Definitely NOT a Donald Trump Doll
Press Release
-
Oct 12, 2016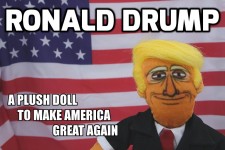 Blaine, WA, October 12, 2016 (Newswire.com) - Some might say this plush doll released today on Kickstarter looks a lot like Donald Trump, but Ronald Drump is a work of fiction.  The Kickstarter campaign, by London based company 'Toy Guru', aims to produce a high-quality Ronald Drump plushie, with a curious (but surely accidental) resemblance to a certain presidential nominee.
"The Ronald Drump plushie is probably the best plushie ever made. The best. No-one knows how to make better plushies than me. Mark my words." – Keenan Cronyn, owner of Toy Guru
Fans will want one as a memory of the greatest rise in the history of politics. Haters will want to buy one to stick pins in. You can make America great again by ordering your very own Ronald Drump plushie today.
"We would never want to use someone else's likeness to sell stuffed toys. If this doll reminds you of say a presidential candidate, or a reality TV star, then that is just purely coincidental. This doll is clearly a work of fiction." – Keenan Cronyn
Shipping is free in the USA and because of a fast production schedule, the Ronald Drump plush doll is expected to be delivered in time for election day.
The doll is being produced by Canadian company Soft Stuff Creations, whose works include the "iCEO" doll and the "This Is Fine" plush dog. The doll will ship from Blaine, Washington.
Toy Guru is a new company based in London, UK, and specializes in iconic dolls and plushies. Several more toys are currently under development.
The Ronald Drump plushie is available to back right now from Kickstarter. ​Find him at https://www.kickstarter.com/projects/127937700/ronald-drump.
Source: Toy Guru USA
Share:
---
Categories: Humor, e-Commerce, Politics
Tags: Crowdfunding, Debate, Election, Kickstarter, Politics, Satire, Trump
---
Related Files
Additional Links