The L.I.D. Experience 2018
Leader Lifestylez presents The L.I.D. Experience 2018, which is a powerful and empowering event where community members come together to recognize some of Fayetteville's brightest leaders for the year 2018. The event will also feature inspirational and empowering speakers that will bring invigoration and motivation to everyone in attendance.
Press Release
-
updated: Jul 12, 2018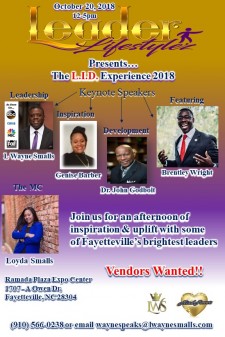 FAYETTEVILLE, N.C., July 12, 2018 (PressRelease.com) - Leader Lifestylez presents The L.I.D Experience 2018. The L.I.D. experience is an event that will include an impartation of leadership, inspiration, development and much more. This event will leave every participant, invigorated, inspired as well as entertained. The L.I.D Experience will feature some of North Carolina's best in leadership. The event will feature certified leadership expert, Major L. Wayne Smalls (Retired), Inspiration Guru, Genise Barber, Growth & Development Visionary, Dr. John L. Godbolt, and financial expert, Brentley Wright. Each presenter will give a short presentation.
We empower, enable, and enhance leaders to grow.
The participants will also be treated to a nice afternoon meal as well as some fine entertainment. There will also be some giveaway prizes and chances to mix and mingle. There will be vendors on site who will be offering high-quality products that will add value to your experience. There will also be an awards presentation to recognize some of our most outstanding local leaders. This will be a classy, upscale event held at the Ramada Plaza at 1707 - A Owen Drive Fayetteville, NC 28304.
---
Tags: Development, Empowerment, Inspirational, Leader Development, Leadership, Motivational
---