The Grolier Poetry Festival Brings Poetry, Music, Dance, and Dramatic Performances to the Street, Saturday, June 2, 2018, 12 Noon-8 p.m.
The Poetry Festival is one in a series of 90th Year Celebrations and includes an exciting lineup of readings and performances while featuring new collaborations with local organizations, workshops for children and adults, and a preview of future events. This event is free and open to the public.
Press Release
-
updated: May 18, 2018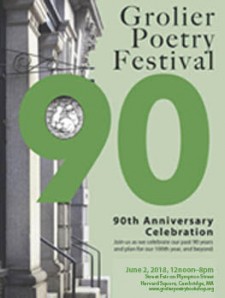 CAMBRIDGE, Mass., May 15, 2018 (Newswire.com) - ​​​​The Grolier Poetry Festival will be held on Plympton Street, between Mass Avenue and Bow Street. Board Member and Poet Lloyd Schwartz will open the children's hour at 12noon, which will feature scene selections from Twelfth Night, performed by Boston Shakespeare Project, Shakespeare in Motion, followed by interactive segments, wordplay and a Q&A. X. J. Kennedy, will read children's poetry, from his own work, and poems written by close Grolier poet friends from Elise Paschen's anthology, Poetry Speaks to Children. He will also read later in the program. A poetry writing workshop for children of all ages will be held from 1-3 p.m.
Proprietor and Director, Poet and Philosopher Ifeanyi Menkiti will give opening remarks at 1 p.m. David Ferry will lead an impressive lineup of poets, reading from his poetry and translations, followed by Kathleen Spivack, Lloyd Schwartz, Lillian Yvonne Bertram, and many great local poets. Dramatic performances will include Jim Vrabel, performing from John Berryman's The Dream Songs, and Michael Mack, performing from Hearing Voices, Speaking in Tongues. Jimmy Tingle will make a guest appearance.
Stan Strickland will play the saxophone and James Kamal Jones will play the drums from 3:40–4:10 p.m. They will both accompany Ifeanyi Menkiti while he reads one of his poems. Our performances include dance and music with poetry, and Audrey Harrer playing the harp. We will also feature Joe Burgio, Ensemble Inedit: Poetry, Song and Dance by performers from Turkey, Brazil, and Israel.
Diana Norma Szokolyai will read and perform with members of the Cambridge Writers' Workshop and lead a workshop based on CREDO: An Anthology of Manifestos & Sourcebook for Creative Writing, a newly released book that she and Rita Banerjee edited. Whiskey Radish, who has worked at Ryles Jazz Club for over 20 years, will sketch throughout the day, and take photographs with Philip O'Brien.
Lloyd Schwartz and Joyce Peseroff will read poems and essays by Donald Hall, a dear friend of the Grolier who also turns 90 later this year. Readings will include excerpts from A Carnival of Losses: Notes Nearing Ninety, which will be released in July, and poems by Mr. Hall's late wife, Jane Kenyon.
Future events with Grolier poet friends will be previewed, including with Frank Bidart, who won the 2018 Pulitzer Prize in Poetry; Robert Pinsky; Tino Villanueva; Peter Balakian; Robert Perkins; David Ferry; Jim Vrabel; and Michael Mack.
We will conclude our Poetry Festival with a special video presentation of Ifeanyi Menkiti's title and signature poem, "Before a Common Soil," an original composition by George Emlen, Former Music Director of Revels for over 30 years, performed by the Revels chorus and musicians.
Please view the Event Program for detailed information about our Festival. Grolier Poetry Book Shop 6 Plympton Street Cambridge, MA 02138 617-547-6468.
Francine C. LaChance is producing and managing the Poetry Festival with support from the Grolier staff. Harvard Book Store is an event sponsor; Grafton Street, Boston Light and Sound, and Gnoman Copy are all event sponsors and vendors; and Peak Event Services provided discounted pricing.
The Grolier is the oldest poetry book shop in the United States. In 2006, when prior owner Louisa Solano announced she could no longer keep the Book Shop open, Ifeanyi Menkiti took ownership of the Grolier and saved this historical and cultural landmark from closing. The Grolier was recently presented with a Cornerstone Award from the Harvard Business Square Association for significant cultural and historical contributions to Harvard Square. To ensure the financial future of the Grolier, Ifeanyi established the Grolier Foundation and Forums Trust so that the Grolier can gain financial support through fundraising and events.
Please join us as we celebrate the past 90 years and plan and raise funds for our 100th year, and beyond. In this historic 90th year we are recommitting to our mission, and expanding programs and events to fulfill our mission of keeping poetry alive while showcasing the unifying power of poetry. We are also forging several new and exciting collaborations with local cultural organizations, including MassLeap. Going forward, you can expect many more programs and events hosted by the Grolier, including a Salon and our First Annual Gala, which we are beginning to plan, including exploring local venues in Harvard Square. We are also exploring new events, such as a Friday Night Stroll, with local cultural organizations, including the Brattle Theatre, Passim, and the Cambridge Forum.
As long-time friend and poet David Ferry remarked: "And now it's the poet Ifeanyi Menkiti and his wife Carol, Francine LaChance, and Elizabeth Doran with them, still fostering us who write and us who read in this legendary place, the Grolier Poetry Book Shop. Center of its world, historically and now. Being in the story you knew you, any poet, any reader, any who stopped by, is inside the legend. So you yourself are legendary."
Join us at the Grolier Poetry Festival. Be part of the legend. 
About The Grolier Poetry Book Shop
​The Grolier Poetry Book Shop, located at 6 Plympton Street, in Harvard Square, Cambridge, MA, is the oldest poetry book shop in the United States. The Grolier was established in 1927 and has had an impressive list of international, national and local authors come through its doors throughout our 90 years. The Grolier has three arms: the Book Shop, Grolier Press, and Grolier Poetry Foundation and Forums Trust. The Press publishes books for new and well-established authors. The Foundation was started to support our readings and educational programs and to raise financial support for the Grolier to bring us from our 90th year to our 100th year, and beyond. To learn more or to donate, please visit grolierpoetrybookshop.org. 
PRESS CONTACT:
Francine C. LaChance
francinelachance@comcast.net;
francine.lachance@grolierpoetrybookshop.org
617-905-5741
Source: Grolier Poetry Book Shop
---
Categories: Arts and Entertainment
Tags: arts and entertainment, dance, drama, Music, Poetry, Poetry festival
---