Streye Partners With the Technical University of Cartagena to Deploy Google Glass Enterprise
Streye, the Spain-based Google Partner for Glass Enterprise, has implemented a year-long training program with UPCT's School of Telecom Engineering to teach students how to develop applications for the device. The new UPCT - Streye partnership is unique in the world. Future engineers will also learn go-to-market skills.
Press Release
-
updated: May 4, 2018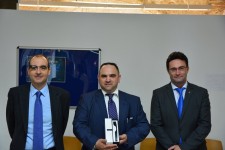 CARTAGENA, Spain, May 4, 2018 (Newswire.com) - Streye, a Google's Glass Partner and now its exclusive online reseller for Glass Enterprise products and Partner Development Packs, has partnered with the Technical University of Cartagena, also based in southern Spain, to provide a year-long program for software development and business expertise on Google's new device.
Streye's expert techs will teach UPCT students and staff how to develop and implement solutions on the device and, on the other hand, UPCT will facilitate joint access to European projects and shared IP.
The UPCT, Spanish acronym for the Technical University of Cartagena, is one of a kind in Spain owing to its commitment and strategic goal of being a leading university for research, discovery, innovation, entrepreneurship and societal impact. The university provides on-campus start-up incubation, company establishment procedures and professional placement for students.
Streye has been granted a 150-seat classroom - the Streye Classroom, from now on - overlooking the Mediterranean Sea in a three-thousand-year-old city, founded by Phoenicians, conquered by Carthaginians and then taken by Romans during the Second Punic War.
Streye, as well as several well-known companies and a traditional hub of NATO providers present in the city,  intend to headhunt local talent. "It is essential to train engineers from a technical and also a business standpoint on how to work with Smart Glasses. We consider them the Clydesdale horse of digital transformation", says Frank Escandell, Director of Business Development at Streye. The School of Telecom Engineering is also sponsored, among others, by Encamina, a Microsoft Cloud initiative.
The Streye Classroom displays a bulletin board for companies to communicate directly with students. Hence, the seminars will be conducted and they will be provided free of charge; also Streye is willing to work with different companies to simply deliver the very best.
The Telecoforum, as the general initiative is called, is an annual forum hosted by the Murcia Region Information Society.
Source: Streye
---
Categories: Colleges and Universities
Tags: Cartagena tecnologia, Escuela Ingenieria teleco, ETSIT UPCT, Frank Escandell, google glass online, streye cartagena, streye google glass españa, Technical University Cartagena, Universidad Politecnica Cartagena, UPCT google glasses
---