Solar-Powered Sunstock Solar Festival Returns to Shine in Los Angeles on Oct. 20
In Its Third Year, the Sunstock Solar Festival is a First-of-Its-Kind, Not-for-Profit, 100 Percent Solar-Powered Music and Arts Festival Taking Place in Hollywood on Gramercy Pace and Hollywood Blvd. Share on Social Media via Insta/Tweet/Facebook: @sunstocksolfest
Press Release
-
updated: Aug 16, 2018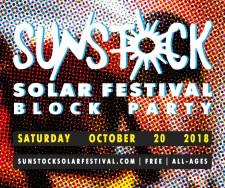 LOS ANGELES, August 16, 2018 (Newswire.com) - #OurEnergy. Come and see what it means. On Oct. 20, 2018, at Gramercy Place and Hollywood Blvd., Sunstock Solar Festival (http://sunstocksolarfestival.com) returns to Los Angeles with an expanded musical line-up and, as usual, it's solar-powered. With live music, food, beer, art, activities and local non-profits in the mix, Sunstock is a free-for-all-ages block party completely open to the public and doggie friendly. It's a not-for-profit music and arts festival. Sunstock is a zero-waste event, utilizing silent and non-polluting solar generators.
Event co-founder and producer Skylar Funk says, "In June 2016, we hosted our first Sunstock Solar Festival. Our idea was to create a positive space for the sustainability movement. While we're at it, we're leading by example in the event world by using clean power ... and not leaving a mess." Co-founder Merritt Graves adds, "As far as the philanthropic side of things goes, this year, we plan to work with GRID Alternatives and contribute toward a fundraiser for My Friend's Place, a homeless resource center in the neighborhood."
Now in its third year, Sunstock Solar Festival has shown the way and broken new ground for the manner in which major concert and festival events will be organized and produced in the years to come.
Sunstock Solar Festival impassions, educates and activates local communities through music, art, food, discussions and more all centered around building greener cities and better futures. Sunstock focuses on clean energy, sustainability, and social justice in a positive, engaging way. Featuring solar-powered light installations, organic food trucks, immersive art, workshops, games, sustainable vendors, social action opportunities and headlining featured-music powered by the sun, the all-ages show engages festival-goers with the causes and calls-to-action that we need to protect our future.
Sunstock's non-profit partners include California for Progress, Ground Game LA, Sierra Club, GRID Alternatives, SoCal 350, Food & Water Watch, Greenpeace, Rootskeeper, Climate Hawks Vote and more.
This year's musical line-up includes Yip Yops, Trapdoor Social, Karmic, Top Shelf Brass Band and a reunion show by The Epilogues (a Colorado band that had a great career and broke up in 2016). More musical performers TBA.
Insta/Tweet/Facebook: @sunstocksolfest
https://www.facebook.com/SunstockSolFest
https://www.instagram.com/sunstocksolfest/?hl=en
Media Access and Interviews: Handsonpr@aol.com and 323.788.0741
Festival Inquiries: whatsup@sunstocksolarfestival.com
ABOUT SUNSTOCK: Sunstock began in 2016 with more than 2,500 Los Angelenos in attendance, with local bands including Cults, Wavves, The Allah-Las and more, and with a fundraising mission that resulted in a $10,000 donation of solar power to Kids Cancer Connection. The festival is non-profit, solar-powered and focused on strengthening the LA community and sustainability movement to create a better future. Sunstock is the brainchild of Trapdoor Social, who also produce solar-powered concerts on tour around the country.
Our (http://sunstocksolarfestival.com/partners) Partners : Sierra Club, Food & Water Watch, Socal 350, GRID Alternatives, Climate Hawks Vote, Citizens' Climate Lobby, American Indian Movement, California For Progress, Center for Biological Diversity, Greenpeace, LACI, March & Rally Los Angeles, American Solar Energy Society, Nextgen California, Oil Money Out, People Demanding Action, Rootskeeper, South Bay Clean Power, Zero Waste Company, Ground Game LA
GRID Alternatives: GRID Alternatives' vision is a transition to clean, renewable energy that includes everyone, making solar technology and job training accessible to underserved communities.
Sierra Club: Sierra Club Angeles Chapter serves outdoor enthusiasts and environmental activists in SoCal. We lead more hikes and outdoor activities than any chapter in the U.S. We have fought to protect California mountains, deserts, rivers, wetlands and coastal waters for more than 100 years. We are working to improve local air quality, water supplies, and energy choices. Help us do more. Join today.
Food & Water Watch: Food & Water Watch champions healthy food and clean water for all. We stand up to corporations that put profits before people and advocate for a democracy that improves people's lives and protects our environment. We are working to create a healthy future for our families and for generations to come — a world where all people have the resources they need, including wholesome food, clean water, and sustainable energy. Making this happen requires organizing people from all over the country to build a large movement with the political power to make our democratic process work. Large numbers of people are a countervailing force to corporations "buying" public policy.
Socal 350: So Cal 350 Climate Action envisions a healthy climate through environmental justice, engaging and empowering our communities through a fossil-free future. We aim to organize, activate and engage across class, gender, racial and ethnic lines to build a mass movement throughout Southern California for a healthy climate and a 100 percent clean energy future with full employment. SoCal 350 is affiliated with the international climate change organization 350.org.
GRID Alternatives: GRID Alternatives' vision is a transition to clean, renewable energy that includes everyone. Our mission is to make renewable energy technology and training available to underserved communities. GRID Alternatives was founded during the 2001 California energy crisis by Erica Mackie, P.E., and Tim Sears, P.E., two engineering professionals who were implementing large-scale renewable energy and energy-efficiency projects for the private sector. The vision that drove them was simple: free, clean electricity from the sun should be available to everyone. Through GRID Alternatives, they developed a model to make solar PV technology practical and accessible for low-income communities that need the savings and jobs the most, yet have the least access. By taking a broader approach to solar as not just an environmental good but also a real-world solution to a real-world economic problem in these communities, GRID Alternatives is helping to set the stage for large-scale solar adoption nationwide.
Climate Hawks Vote: Our goal remains steadfast: to elect climate hawk leaders - those who prioritize and speak on the climate crisis. We don't support those who avoid issues such as Keystone XL, Arctic drilling, and coal exports. Climate change is the greatest challenge facing ours and future generations, not just another Democratic issue, but too many politicians are afraid to talk about it. Waffling on carbon pollution and voting for fossil fuels should be as unacceptable as voting against a woman's right to choose. We don't tolerate elected officials and candidates taking money from tobacco companies who profit from human suffering and death; we shouldn't tolerate them taking money from coal, oil and gas companies whose business plan is to cook the planet.
Source: Sunstock Solar Festival
Share:
---
Categories: Music
Tags: Clean Energy Festival, Green Event, Solar Energy, Sunstock, Sunstock Festival Hollywood, Sunstock Solar Festival
---