Sienna Products Introduces Most Versatile, Affordable Line of Garment Steamers
New Vela Line Offers Most Features at Lowest Price Point; Steel Faceplates Especially Useful for Steam Pressing
Press Release
-
updated: Oct 26, 2018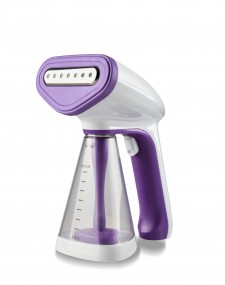 LIVERMORE, Calif., October 26, 2018 (Newswire.com) - ​Sienna, the flagship brand of Anvid Products, the premier manufacturer of steam-cleaning devices for a wide range of cleaning and sanitizing applications, introduces the availability of its Vela Garment Steamers. 
Featuring a lightweight and compact design, these "workhorse" devices quickly and easily take the wrinkles out of fabrics -- even many fabrics not traditionally suitable for traditional ironing, including silk, wool, polyester, nylon and velvet. Their extremely portable size makes them perfect not only for home use but on the road as well. 
The versatile Vela Garment Steamers can be used in both vertical and horizontal positions. Their versatility is further evidenced by the fact that they can not only be used to touch up clothes, but they can also keep family members safe by killing dust mites that live on fabrics, pillows, sheets and toys. What's more, travelers will appreciate that they can be used to sanitize virtually every item or surface in their hotel room, killing 99.9 percent of all germs and bacteria.
Vela Garment Steamers offer a unique stainless steel faceplate that is especially useful for taming the toughest wrinkles. Few garment steamers provide this feature and the ones that do are almost double the retail price of Vela.
Vela Garment Steamers come in two models: Vela On-The-Go and Vela Handheld. Both models start steaming in under 45 seconds with just the push of a button: users can press the trigger for controlled bursts of steam or engage the trigger-lock for automatic, continuous steam. 
Vela On-The-Go provides 1500 watts of continuous direct steam; the Handheld model 1200. Vela On-The-Go comes with a water bottle attachment that can be used with most water bottles, while the Handheld version features an extra-large metal faceplate. Both offer an extended steam run time of 14 minutes - plenty of time to tackle even the most troublesome wrinkles and filthiest surfaces.
"There are a number of garment steamers on the market, but none that offers the range of features of the Vela line at such an affordable price point," said Richard Huang, CEO of Anvid Products. "The fact that Vela is one of the most powerful steamers for removing wrinkles, combined with its ability to sanitize virtually any surface, makes it one of the most versatile steamers the market has ever seen."
MSRP of both Vela Garment Steamers is $39.99. They are available online at Amazon.com. 
ABOUT SIENNA
Located in Livermore, California, Sienna is the flagship brand of Anvid Products, one of the world's leading designers and manufacturers of high-quality, environmentally safe steam-cleaning products. The Sienna brand offers a full selection of household appliances and accessories that steam, press, refresh, sanitize, clean and deodorize a wide range of items and surfaces, including floors, garments, jewelry, windows, countertops, bathrooms, kitchen fixtures, children's toys, even BBQ grills. These steam appliances not only eliminate 99.9 percent of all bacteria, but they also use no caustic chemicals to harm the ecosystem. For more information, visit www.siennadirect.com. 
Anvid Products has more than 20 years of steam appliance design and manufacturing experience. For more information about the Sienna brand, visit our website at www.siennadirect.com. 
Media Contact:
Arthur Sesnovich
Bulldog Communications
(508) 485-0776
art@bulldog-communications.com
Source: Anvid Products
---
Categories: Home Appliances, Consumer Goods
Tags: clothing, consumer goods, ecofriendly, garment cleaners, home appliances, sanitizing, Steam cleaning, wrinkles
---