Seasoned Angel Investor to Address the Baruch S. Blumberg Institute's Regional Biotech Conference Themed 'Show Me the Money'
Press Release
•
updated: Nov 8, 2019
Howard Lubert, co-founder of Keiretsu Forum Mid-Atlantic, will address entrepreneur and industry leaders at the Baruch S. Blumberg Regional Biotech Conference as they explore how early-stage companies can get investors to 'Show Me The Money'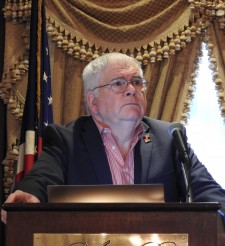 PHILADELPHIA, November 8, 2019 (Newswire.com) - The Baruch S. Blumberg Institute will host the 19th Annual Regional Biotech Conference, themed "Show Me the Money: Life Science Start-Up Fundraising," at its headquarters at the Pennsylvania Biotechnology Center in Doylestown on Friday, Nov. 15, 2019. Howard Lubert, co-founder of Keiretsu Forum Mid-Atlantic, is scheduled to address more than 100 of the area's life science and biotechnology leaders who will be in attendance.
The Baruch S. Blumberg Institute is an independent nonprofit research institute established by the Hepatitis B Foundation to advance its research mission. Today, it is one of the nation's leading centers for translational research, particularly for hepatitis B and liver cancer.
Howard Lubert continues to build upon a strong foundation of successes in angel investing, which began while at Safeguard Scientifics and grew through the golden age of tech startups. In his career working with early-stage companies, Howard estimates that he has seen over 10,000 pitches across every business silo. His experience working as a fund manager and as a private angel investor gives Howard an exceptional vantage when assessing new deals.
The Blumberg Institute's conferences, which are highly regarded, provide valuable support and information for emerging biotech businesses in the region, including Chester, Montgomery, Delaware, Philadelphia, and Bucks County. This year will be no exception.
According to a recently published PitchBook 3Q19 report, "Angel & Seed deal-making activity in 2019 may not reach historic levels, capital invested has remained strong and relatively stable with nearly $2 billion invested across just more than 1,000 deals in 3Q." With optimistic forecasts, entrepreneurs will undoubtedly flock to Howard's address as they want insight into what investors need to "Show Me The Money."
Keiretsu Forum Mid-Atlantic is part of Keiretsu Forum, the world's largest and most active investment community of early-stage angel investors. Founded in California in 2000, Keiretsu Forum now includes 53 chapters on four continents. Keiretsu Forum is known for its thorough due diligence and exceptional deal flow. For more information, visit www.KeiretsuForum-MidAtlantic.com.
The mission of the Baruch S. Blumberg Institute is to use discovery science to find new therapies and biomarkers for hepatitis B and liver cancer; to advance its research discoveries through traditional scholarship and educational opportunities; to nurture biotechnology; and to promote public health outreach programs to improve the quality of life for those affected by chronic hepatitis B worldwide. For more information on The Baruch S. Blumberg Institute, visit http://www.blumberginstitute.org/.
Media Contact:
Cindi Sutera
cindis@amscommunications.net
610-613-2773
Source: Keiretsu Forum Mid-Atlantic