Powersports Listings Mergers & Acquisitions Announces New Ownership at Gresham Powersports of Gresham, OR
Press Release
•
Jun 9, 2023
After 10 years under prior ownership, Gresham Powersports of Gresham, OR, has new ownership for the KTM, Husqvarna, GasGas, Yamaha, and Bad Boy Mowers dealership.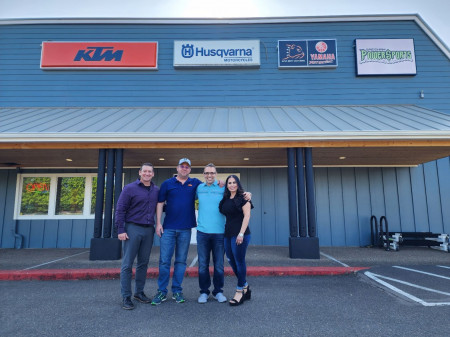 GRESHAM, Ore., June 9, 2023 (Newswire.com) - Power Investments, LLC has acquired Gresham Powersports with principal owners Phillip Saraceno along with his wife Karla Brand-Saraceno. Gresham Powersports boasts a strong brand lineup of KTM, Husqvarna, GasGas, Yamaha, and Bad Boy Mowers and operates from a spacious facility on 1.5 acres in Gresham, Oregon, situated 12 miles east of Portland.
Selling owner Nate DeRoss established the dealership in 2013 and grew the business to sales of more than 1,100 combined new and used units per year. Upon the decision to sell the dealership, Nate contacted Mike Pate, Vice President of Powersports Listings Mergers & Acquisitions (PLMA), for guidance and was engaged by Nate to represent him in the marketing effort and management of a potential buy-sell transaction.
Pate interviewed a number of potential buyers for Gresham Powersports and identified an automotive executive from the neighboring city of Ridgefield, Washington, as the perfect fit to acquire the dealership.
Mike Pate, along with PLMA's CIO David Clay, were on-site to manage final reconciliations and funding with the closing taking place on June 1, 2023.
Phillip Saraceno stated, "Mike Pate and Powersports Listings made a lifelong dream of mine of owning a dealership come true. They worked hard for us throughout the process and helped us cross the finish line. The insight and knowledge they provided was beyond helpful. Their service is second to none and we're very grateful to have worked with Mike, David, and their team."
Mike Pate stated, "Our team has always thrived on the ability to bring in new Powersports owner-operators from other industries. It's a great feeling to see an entrepreneur launching a dream and another entrepreneur's dream fulfilled at the same time."
Powersports Listings Mergers & Acquisitions (PLMA), the professional powersports industry dealership brokerage centrally located in Dallas, Texas, managed the transaction as the Seller's representative with team members:
Tom Macatee, CEO
David Clay, CIO
Jerry Szopinski, President of Sales & Networking
Mike Pate, Vice President
Jaye Sanders, Managing Director
Source: Powersports Listings M&A