Poppy and Samir Charnalia Launch Hindi and Urdu Poetry Book at Fundraiser for Autism Speaks
Poppy Charnalia and Samir Charnalia host a Fundraiser for Autism Speaks
Press Release
-
updated: Aug 11, 2018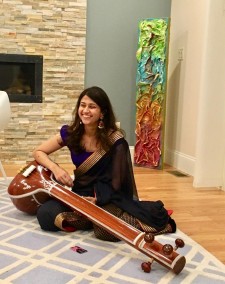 LINCOLN, Mass., August 11, 2018 (Newswire.com) - ​Poppy and Samir Charnalia, residents of Lexington, Massachusetts, are hosting a fundraiser for Autism Speaks on Sept. 8, 2018, at 5:30 p.m. at the DeCordova Sculpture Art Museum in Lincoln, Massachusetts. The event will be attended by 170-200 people. 
Poppy Charnalia, the owner of Poppy's Paintings and Poetry (https://www.poppyspaintings.com/events), will launch her first Hindi and Urdu poetry book at the event, singing and reciting some of her compositions from her book. Poppy has been initiating and participating in poetry meets with other New England poets, fueling love for Indian Languages in the community. She has been deeply appreciated for her expression in all genres of poetry from narrative, social, emotional, humorous, sarcastic to kids' verses. Poppy is also a Lexington, Massachusetts-based artist and her artwork will be for sale at the event. Half the proceeds from the art and book sale will go towards the organization Autism Speaks. 
For her art and poetry endeavors, Poppy was in the prestigious India New England Woman of the Year 2018 lineup of 20 women selected for exceptional trailblazing contributions to the community. Poppy and her husband Samir's 7-year-old son Sohum is on the autism spectrum. The family is deeply and painfully moved by this issue. This event is their effort to touch and benefit other impacted families. The goal is also to lay the groundwork for future fundraisers which will aid programs for autism and increase awareness which benefits the lives of those on the autism spectrum in a slew of ways.   
Poppy had been painting and writing most of her life growing up in Lucknow, India. When she became a mother of twins in 2010, she was inspired to craft textured abstract art on canvas. Her son Sohum was enjoying the sensory input from these textures. Her daughter Preanshi would often participate in the innovation of these multi-dimensional surfaces. The art that began with Sohum's play now sits in many homes across New England, New York, Chicago and the West Coast. This art has been rendered even greater depth now that it will aid programs for autism. 
The audience at the event will be comprised of friends, family members of those impacted by autism, entrepreneurs who either currently host employment programs for autistic adults or are crafting them as we speak, and poetry and art lovers who are willing to support the cause. 
A representative from the Clinical Programs at Autism Speaks will attend the event to discuss their initiatives. The event will mark the ignition of a story of hope and love in the face of a seemingly insurmountable challenge. A story which over time will weave pieces from many lives beyond the Charnalia family. 
Source: Poppy Charnalia
---
Categories: Arts and Entertainment, Books
Tags: book launch, DeCordova, Lincoln, Poppy Charnalia, Samir Charnalia, Sculpture
---