Michael Beattie's New Book "Can a Burger Change a Man?" is the Remarkable Memoir of a Man Who Overcame Crippling Obstacles and Set Out to Fight Hunger in the US.
"Can a Burger Change a Man?" from Michael Beattie is a memoir of a man on a mission, detailing the adventure that begins after the author triumphs over severe medical battles, a triumph that he consummates with a promise to God—and thus begins the solo epic as Beattie, at age sixty-seven, rides his bike unassisted around the United States to raise awareness for the veteran hunger problem.
Press Release
-
updated: Jul 6, 2018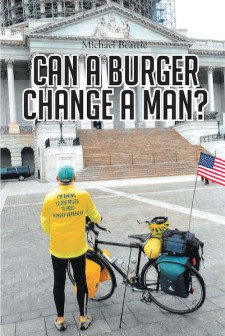 Storrs, CT, July 6, 2018 (Newswire.com) - Michael Beattie, a Vietnam era vet and former police officer from Mansfield, Connecticut, turned spokesperson for hungry veterans, has completed his new book, "Can a Burger Change a Man?": an astonishing true story of one man's war against poverty unjustly afflicting the nation's war vets.
Michael shares, "As I traveled alone, mostly in the warmer areas of the country, I was struck by the sight of so many homeless people that were holding signs begging for food or work, or both. And the sheer number of them claimed to be homeless veterans. My opinion of most of these people was that they were freeloaders, trying to take advantage of soft people because they were too lazy to work! While in a small town of Truth or Consequences, New Mexico, one day, I stopped at a McDonald's for a coffee. There was a man outside holding a sign that stated he was a homeless veteran and was hungry and would work for food. I purchased a couple of burgers and went outside and gave the burgers to the man. Now, he started to cry and thanked and hugged me.
This for some reason hit a nerve with me, so I sat with him and asked him how he ended in this situation. We talked for some time about his job loss after factory relocation, and how he didn't have any other jobs skills to be rehired. He took one part-time job after another to try to make ends meet. Loss of house, car, family—a story so many people in our country can tell."
Published by Covenant Books of Murrells Inlet, South Carolina, Michael Beattie's new book is a truly unique adventure story as well as a rousing call for awareness of the less fortunate heroes of the nation.
Part travel memoir, advocacy piece, and vivid autobiography, Beattie's story educates and entertains.
Readers can purchase "Can a Burger Change a Man?" at bookstores everywhere, or online at the Apple iTunes store, Amazon, or Barnes and Noble.
Covenant books is an international Christian owned and operated publishing house based in Murrells Inlet, South Carolina. Covenant Books specializes in all genres of work which appeal to the Christian market. For additional information or media inquiries, contact Covenant Books at 843-507-8373.
Source: Covenant Books
---
Categories: Books
Tags: "Can a Burger Change a Man?", Covenant Books, Michael Beattie, new book
---