Mexico Earthquake: Los Topos HQ at the Church of Scientology
Press Release
•
updated: Sep 22, 2017
Providing the logistical support to keep Los Topos and other rescue workers on the job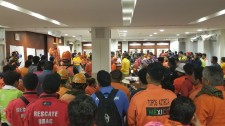 MEXICO CITY, September 22, 2017 (Newswire.com) - At the Los Topos Mexico City headquarters at the Church of Scientology Mexico, 39-year-old Víctor Ruiz Jiménez, like the rest of his colleagues, is focused on saving lives. And they are doing just that. So far, the 300 Topos have pulled at least 26 survivors from the wreckage of Tuesday's 7.1 earthquake.
Los Topos are working side-by-side with the 400 firefighters, civil protection personnel, paramedics, nurses and doctors responding to the disaster. Most of these first responders are government workers but many, including all the Topos, are volunteers.
Backing them are more than 500 Scientology Volunteer Ministers providing water, hot food, a tent where emergency personnel can get out from the driving rain that has been making their work even more challenging, and a place to catch a couple of hours of sleep before heading back to one of at least 45 different locations where people are trapped in the rubble.
The Church of Scientology has collected nearly 15 tons of donations including medical supplies and equipment, which the Volunteer Ministers organize and distribute nearly as fast as it comes in.
When not responding to disasters, Jiménez supports his family by managing a civil protection training company. He arrived in Mexico City on Tuesday from Juchitán where he responded Sept. 7 to the 8.1 magnitude Chiapas earthquake.
Interviewed by media today, Jiménez described how he originally joined Los Topos and he gave insight into what makes these volunteers the effective force that they are.
In October 2015, Jiménez responded to a disaster in the El Cambray II community of Santa Catarina Pinula, Guatemala, where an unstable hillside collapsed on a squatter community, killing 280. This was the first time he worked with Los Topos, who rescued 648 people who were buried by the landslide. From that point forward, he has worked with the brigade.
Jiménez describes the attitude that defines these volunteers: "To be Topos. you must be part of the solution and not part of the problem," he says.
For more information, contact the Church of Scientology Public Affairs Office at publicaffairs@churchofscientology.net or call (323) 960-3500.
Source: ScientologyNews.org
Related Media