Mary Ellen Miller's New Book 'He Stands Still' is a Powerful Tribute to the Unshakable Pillars and Eternal Principles God Has Set to Guide Mankind's Reality.
Recent release 'He Stands Still' from Covenant Books author Mary Ellen Miller is an incisive book about the governing principles God has set in place since the dawn of time, before mankind grew into awareness of their need for these principles—from paradise to the battle over man's soul, Miller shows that God has never left his creation without dependable help.
Press Release
-
updated: Oct 11, 2018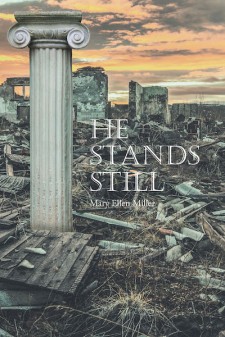 CANFIELD, Ohio, October 11, 2018 (Newswire.com) - Mary Ellen Miller, a Kent State–trained children's psychiatric nurse born and raised in East Liverpool, Ohio, now living in Canfield with her husband, has completed her new book, "He Stands Still":  a stirring testament to God's cosmic faithfulness.
Miller shares, "When my grandson was about four years old, his grandfather and I took him to an amusement park that had a children's pool. At this particular time, the pool was full of rowdy kids. It had a fountain that bellowed chlorinated water from the middle of it. It was chaotic and noisy and busy with parents keeping watch on their little ones. My fear was that Nathan would get lost or abducted, so I tried to follow him all over the pool in an attempt to be there for him if he needed me. His grandfather stood in one place at the side of the water and watched and then finally said to me, 'Stand still, so that when Nate needs you, he'll know where to look!'
"My mind has gone back to that summer afternoon many times. I can smell the chlorine. I can hear the clamor of the kids' voices and feel the splash of the cold water. I can experience the fear of that precious little boy being abducted and my inability to reach him in time. I have always remembered the incident, not with the conviction of the principle defined in my understanding as it is now but with a respect for the intellect behind the act. It was recently when I came to realize that the scenario is an exemplary definition of one of God's most magnificent principles."
Published by Covenant Books of Murrells Inlet, South Carolina, Mary Ellen Miller's new book is an eloquent introduction to the spiritual pillars and walkways everyone can depend on to find their way back home to God.
Miller deftly draws from common life experiences to explain the plan of salvation and how these principles stand strong to overcome evil.
Readers can purchase "He Stands Still" at bookstores everywhere, or online at the Apple iTunes store, Amazon, or Barnes and Noble.
Covenant books is an international Christian owned and operated publishing house based in Murrells Inlet, South Carolina. Covenant Books specializes in all genres of work which appeal to the Christian market. For additional information or media inquiries, contact Covenant Books at 843-507-8373.
Source: Covenant Books
---
Categories: Books
Tags: "He Stands Still", Covenant Books, Mary Ellen Miller
---