Machine Gun America to Premiere at NY International Fringe Festival
**Dark comedy musical named after real, kid-friendly, gun-toting Orlando amusement park**
Press Release
-
Jun 27, 2016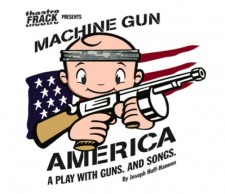 NEW YORK, June 27, 2016 (Newswire.com) - ​​​​​​​​New York-based theatre company FRACK THEATRE, with award-winning writer Joseph Huff-Hannon, will premiere MACHINE GUN AMERICA this summer at the NY International Fringe Festival, a new play with original music, inspired by America's bloody love affair with firearms.
MACHINE GUN AMERICA takes its name from an amusement park in Orlando a few miles from Disney World, where parents can take their children to shoot AK-47s and other automatic weapons. The work's darkly satirical exploration of the power of the gun lobby, and the lives of people touched by macabre gun tragedy takes on particular urgency after the largest mass shooting in recent US history this June.
With a script inspired by unbelievable but real stories from across the country, and original songs and music cheekily extolling the virtues of the Second Amendment, this genre-bending theater piece remixes fact with fiction to create a startling, and unnerving portrait of gun culture in the United States. It's a theatrical landscape where support groups have sprouted for "young shooters," paranoid speeches by NRA leader Wayne LaPierre have been refashioned into upbeat musical numbers, and provocative characters and plot twists beg the question — what's going on in a country with more guns than citizens, where toddlers now accidentally shoot hundreds of people every year?
At its heart, the play is also a thoroughly modern dystopian love story, where protagonist Bang Bang (more on the name later), tangles with well-armed toddlers, a powerful gun rights leader, and a dangerously depressed gun safety mascot to win the affections of the girl he loves.
MACHINE GUN AMERICA has been in development since 2015, launching with an initial works in progress performance at Dixon Place, an award-winning performing arts venue in lower Manhattan. The performance featured a talk back after the show with the Executive Director of New Yorkers Against Gun Violence. Frack Theatre will partner with NYAGV again to do a similar series of talk backs during its run at the NY Fringe Festival in August and beyond.
The production has been awarded a Creative Space Grant by the Alliance of Resident Theaters, New York, a development grant from the Cultures of Resistance Network, and is the recipient of dozens of diy donations through a successful crowdfunding campaign.
###
MEDIA CONTACT: Melissa Remo​, Melissa.a.remo@gmail.com, 646-496-5432
ABOUT JOSEPH HUFF-HANNON
Playwright Joseph Huff-Hannon is an award-winning writer published in The New York Times, The Guardian, Rolling Stone, Salon, Huffington Post and elsewhere, a campaigner and activist with experience in guerilla theater, and a longtime collaborator with satirical culture jamming group the Yes Men. On the eve of the Sochi Winter OIympics and the passage of Russia's high profile anti-gay law, Joseph co-edited a book of "illegal" real life LGBT love stories, with celebrated Russian journalist Masha Gessen. He also once tried to warn sun seekers on Fire Island about impending sea level rise and climate change, to little avail.
ABOUT FRACK THEATRE
Producing partner Frack Theatre is a New York based theater company that utilizes theater as a means of community empowerment. Using techniques of verbatim and documentary theater, Frack uses storytelling as a means of investigation. Frack Theatre digs deep, puts pressure on the dominant discourse and exposes its cracks and fault lines. Underneath the thick crust of a homogenized society lie the deep, profound and moving stories that so often remain untold. Some of Frack's off-Broadway productions have tackled LGBT rights and perceptions of history, the nascent #BlackLivesMatter movement, and more recently, gun culture in the United States. https://www.facebook.com/fracktheatre
Source: Frack Theatre
Share:
---
Categories: Performing Arts, Theater, Live Performance, Arts and Entertainment
Tags: comedy, firearms, fringe festival, gun control, gun lobby, lgbt, musicals, new york, orlando, satire, theatre
---