Innovative Acrylics Becomes a Leading Provider of U-Shaped Aquariums
Innovative Acrylics relies on cutting-edge technology to create U-shaped aquariums with no viewing obstructions.
Press Release
-
updated: Sep 3, 2018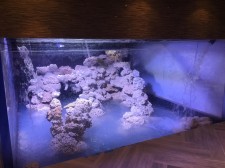 TAMPA, Fla., September 3, 2018 (Newswire.com) - Sometimes physical constraints make more traditional rectangular aquariums impossible. One popular solution is the U-shaped aquarium that provides fish with a stylish abode and excellent water flow in a more vertical presentation.
A U-shaped aquarium can make a beautiful addition to any room and is ideal for those looking for something more custom and unique than a traditional rectangle-shaped aquarium.
Innovative Acrylics, thanks to the flexibility of Plexite acrylic, is easily able to create U-shaped aquariums on either a large or small scale.
Sean Stalter of Innovative Acrylics says the company's aquariums are perfect for anyone looking for a stunning showpiece that provides a seamless viewing area and that looks fantastic from any angle.
"One of the great things about Innovative Acrylics' U-shaped aquariums is that there are no obstructions thanks to the unique forming properties of acrylic," Stalter said. "Acrylic does not offer distorted views like glass aquariums often do."
One of the big challenges with any aquarium, whether U-shaped or any other shape, is creating a viewing area with no viewing obstructions, such as large seams.
At Innovative Acrylics, this is accomplished by relying on cutting-edge technology, such as acrylic bonding and thermoforming to create bonds that are super-strong and leak-proof and that do not obstruct the view into the aquarium.
"A U-shaped aquarium can be both eye-catching and highly functional," Stalter said. "Guests love the unique views of fish that the aquarium provides and owners love the way the aquarium adds to the atmosphere of the room or building."
Thanks to its innovative technology and use of Plexite acrylic, Innovative Acrylics has become a leading provider of U-shaped acrylic aquariums for both individual homeowners as well as large resorts, hotels, spas and more.
"The aquariums add beauty and elegance to any setting and also come with numerous other benefits, including they are highly resistant to impact and they are durable and long-lasting, much more so than glass," Stalter said. "When it comes to creating a truly memorable viewing experience that is unlike any other, having a U-shaped acrylic aquarium is a great start. The owner and his or her guests will love the uniqueness of the aquarium as well as the underwater views that it offers."
To learn more about Innovative Acrylics and U-shaped aquariums, please visit www.InnovativeAcrylics.com.
ABOUT INNOVATIVE ACRYLICS
With offices in Miami, New York, London, Paris and Sydney, Innovative Acrylics is a leading provider of acrylic sheets for a variety of uses and industries. By utilizing cutting-edge technology and highly knowledgeable technicians, Innovative Acrylics designs, engineers, fabricates and installs acrylic panels for individuals and companies worldwide. 
Source: Innovative Acrylics
Share:
---
Categories: Architecture and Design
Tags: acrylic sheets, aquarium design, aquarium installation, aquariums, innovative aquarium, modern aquariums, stylish aquarium, ushaped aquariums
---