Innovative Acrylics' Attention-Grabbing U-Shape Window Design Offers Maximum Underwater Viewing
Innovative Acrylics sees popularity of its U-shape acrylic pool windows surge in 2018. The design is now the company's most popular.
Press Release
-
updated: Sep 13, 2018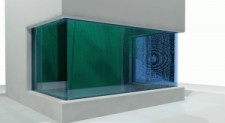 TAMPA, Fla., September 13, 2018 (Newswire.com) - Innovative Acrylics announces that its U-shape acrylic pool window has become the company's most popular design, according to orders submitted by clients so far in 2018.   
"U-shaped acrylic pool windows are an excellent option for pool owners who want to grab attention while also providing pool users with expansive underwater views. These types of pools are particularly popular for commercial installations due to their unique design presence and large observation areas," said Sean Stalter of Innovative Acrylics.
"The most common U-shape window designs are the four-sided U-shape window and the three-sided U-shape window. For the four-sided window, it can be installed with the wet face being the interior or exterior of the U shape. For the three-sided window, it is constructed using two 90-degree angles and provides complete transparency on three sides of the pool."
Innovative Acrylics personnel are experienced in designing, fabricating and installing U-shaped windows. The company's four-sided U-shaped acrylic windows are available in three angle junction styles: bonded, silicone and jamb.
As for the three-sided U-shaped acrylic windows, the company can produce and install individual acrylic pool panels in lengths up to 300 feet without the need for chemical bonding. The angle joints of its U-shaped windows can be created using acrylic bonding, thermoforming, mullions or silicone sealing.
"Few pools are more striking than ones with a three-sided or four-sided U-shaped acrylic window," Stalter said. "These pools look amazing from the outside and provide truly amazing underwater views to pool users inside."
One of the big challenges facing builders of pools with U-shaped windows is creating a window with no viewing obstructions.
Innovative Acrylics overcomes this challenge by having no top supports to obstruct the view and it also relies on cutting-edge technology, such as acrylic bonding, thermoforming, mullions and silicone sealing, to create bonds that are super-strong and leak-proof while not obstructing the view into or out of the pool.
Innovative Acrylics also offers a variety of top edge styles for its U-shaped windows, including radius edge, an ideal design for freeboard and infinity windows; bullnose edge - this rounded top is perfect for spa pool walls; and the company also offers custom edge designs.
"Innovative Acrylics has become a leading provider of U-shaped acrylic pool windows for individual homeowners as well as large resorts, hotels, spas and more," Stalter said. "The windows add beauty and elegance to any setting and also come with numerous other benefits including: they are highly resistant to impact; they are durable and long-lasting, much more so than glass; and they allow natural light into the pool."
To learn more about Acrylic Pools U-shape pool windows, please visit www.innovativeacrylics.com.
Source: Innovative Acrylics
Share:
---
Categories: Design and Architecture
Tags: acrylic pools, acrylic windows, customized pools, customized shaped pools, innovative architecture, innovative pools, pool, pool design
---