Guam International Airport Aquarium
Innovative Acrylics was hired to build and install a 45,000-liter aquarium in the airport's recent Gateway refurbishment.
Press Release
-
updated: May 30, 2018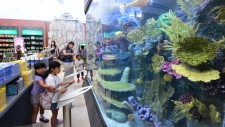 TAMPA, Fla., May 30, 2018 (Newswire.com) - The Concept: Officials at Guam's Antonio B. Won Pat International Airport (GUM) decided that they wanted a recent $20 million refurbishment of the airport's retail space to focus on Guam culture.
Among the highlights of the project is a life-sized model of Guam's native water-buffalo, the Carabao, located just past security checkpoints. The design also called for Latte stone features leading into the Chamorro Hut entrance of the Guam Cultural Center, which has a 4,500-gallon aquarium full of fish as the centerpiece.
The Solution: Innovative Acrylics was hired to design, fabricate and install the centerpiece aquarium. Thanks to our customizable Plexite® acrylic sheets, we were able to create a large, unique aquarium with a curbed viewing window. The aquarium quickly became one of the airport's most popular features.
The Challenges: This project called for a large custom-sized acrylic sheet for the front of the aquarium. Innovative Acrylics staff designed the sheet, fabricated it in our facilities and then transported it to the airport where we then installed it. The entire process went smoothly and airport officials were very impressed with the final result.
Conclusion: The overall project encompassed 24,000 square feet of retail, a refurbished food court and the renovation of restrooms and other facilities. The aquarium created by Innovative Acrylics serves as the centerpiece for the renovation's Guam Cultural Center. It continues to draw crowds of travelers who are spending time in the refurbished area before their flight.
At the opening of the facility, which is called Guam Gateway, Lotte Duty Free CEO Hong-Kyun Lee said, "The retail offering we have unveiled today stands alongside any airport in the world as an exceptional shopping experience." A large part of that experience is the attention-grabbing aquarium created by Innovative Acrylics.
Source: Innovative Acrylics
Share:
---
Categories: Design and Architecture
Tags: acrylic aquarium, acrylic design, Acrylic Pool Window, acrylic window, airport, airport aquarium, airport cool designs, airport design, aquarium, Guam, Guam Airport, Guam International Airport
---