G Awards $15K Grants for Family Fundraisers to Benefit Honored Brands, Receptions, Local Sponsors, Politicians, Schools, and Causes
Families receive grants for luxury receptions, press releases, video e-zines, films, and sponsored gifts. G's professionals inspire sponsors to upgrade family budgets with Embassy and Charity Mansion Makeovers.
Press Release
-
updated: May 23, 2018 08:30 PDT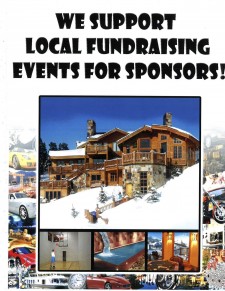 Laguna Niguel, California, September 11, 2017 (Newswire.com) - GenerUosity's (G) founder, Smart Card Professionals (SCP), is a Fintech adoption authority awarding family grants for reception budgets with honored brands.  GenerUosity's grants inspire cost-free fund-raising prizes for brand-sponsored receptions, auctions, contests, celebrity hosts, and 50 guests.  Families can bid for grants with family fundraisers.
Well-planned grants receive future family-owned birthdays, anniversaries, graduations, weddings,  and holiday receptions with reservations for honored brand-sponsored fundraisers.  Each grant will produce family films for social media distribution.   All sponsors can re-purpose brand advertising budgets into authentic improvements in new customer fundraising and luxury engagements.
Reception mansion makeovers in levels of venues in mansions, theaters, malls, restaurants, stadiums, resorts, and private homes to invite unlimited politicians, brands, celebrities, non-profits, and sports heroes to theme and host on-air receptions and films.  Guests experience gifting suites, raffles, makeovers, and family press releases.                
GenerUosity organizes family fundraisers all about U. Design, sponsor, award, share, give, and volunteer to Log The Love and raise everyone's G Scores. Top scores win awards and reception venue makeovers sponsors would be proud to produce and enjoy.
Each reception's social media, promotions, and film upgrades offer sponsor's employees with doors opened, new tech adopted, deals closed, referrals promised, loyalty inspired, and awards shared.   Loaded mobile wallets pay for all the reception details delivered.
Honored sponsors, local heroes, families, and guests can be nominated for GenerUosity  Awards by starring in family films, brand placements, film credits, and commercials with inspired customers.  G's filmmakers compete and collaborate with family film and e-zine budgets featuring professional screenplays, graphics, post-production, on-air celebrity hosts, famous foods, and creative sponsor engagements. 
G's professionals and volunteers produce all the details to inspire more demand for cost-free family receptions.  G's advisory boards and publicists can offer reservation requests and publicly share each family's success stories.  G's brand ambassadors, top chefs, party planners, filmmakers, and bankers can help design new innovations in fundraising incentives and extraordinary entertainment. 
Smart Card Professionals (SCP) represents a forty-year-old payments authority introducing family based mobile wallet adoption stuffed with generous brand loyalty offerings.  SCP professionals introduced the earliest online authorization systems ('75-'83), payment  systems ('87), gift cards ('81-'98), imaged check deposits ('94), and nationwide ATM card acceptance ('95).  SCP professionals pioneered agent partnerships with Visa ('87),  MasterCard  ('87), National Bank Of Colorado ('87), American Express ('95), NACHA ('95), Mellon Bank ('96), Key Corp ('94), Global Payments ('95), PMT ('97), and Bank Of Boulder ('89) .
Michael McCormick - Partner - Smart Card Professionals. LLC
www.GenerUosity.com  - GiftsForSchools@gmail.com 
949-683-7170 - 800-983-1885
Source: Smart Card Professionals, LLC
---
Categories: Movies, Multi-Media, Television
Tags: 2018 GenerUosity Awards, America's Most Generous..Movies, Celebrity Themed Vacations, Famous Fundraising Prizes, Generosity Rewards, Live Like Billionaires
---