Dale M. Walsh's New Book, 'Wesley's Adventures: 'Who Runs Faster?' Stories' Spins New Tales About the Author's Dog and His Exciting Adventures.
Recent release "Wesley's Adventures: 'Who Runs Faster?' Stories" from Covenant Books author Dale M. Walsh is another masterpiece that follows Wesley, the author's dog, through adventures that, in this book, test his ability to run fast.
Press Release
-
updated: Jul 9, 2018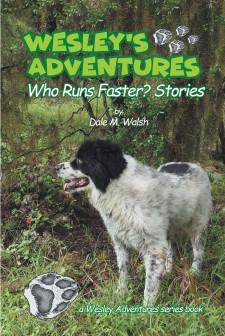 BOERNE, Texas, July 9, 2018 (Newswire.com) - Dale M. Walsh, an author, has completed his new book, "Wesley's Adventures: 'Who Runs Faster?' Stories": an enjoyable book about the author's dog, Wesley, and his struggle to prove to himself he is the fastest runner around.
Dale shares, "Suddenly, Wesley froze, with three legs on the ground and one hanging in the air. He had sensed the fresh scent of something nearby, something still on the trail watching him this very moment. It had fur, he could tell. And it wasn't big like a deer. The scent wasn't on the ground, but came to him in the air, brought by the breeze blowing toward him from the trail ahead. With his head held high, he started moving down the trail, sniffing the air, and gazing ahead to catch even the slightest movement of the creature ahead."
Wesley loves to run. He considers himself the fastest thing on four feet—well, almost. Three "Wesley's Adventures" stories are selected, each about running fast and who runs faster.
In the "Wesley's Marvelous Nose" story, Wesley, during a hike with Granddad, smells the scent of a rabbit ahead on the trail. As Wesley comes nearer sniffing the ground, Mr. Rabbit runs for his life. Wesley gives chase, slowly gaining on the exhausted rabbit. Mr. Rabbit tries to hide and rest. But Wesley's marvelous nose leads him to the hiding place, and the race continues.
In the "Wesley and the Roadrunner Races" story, a small voice brashly interrupts Wesley's nap challenging him to a footrace. This unusual challenger runs on two feet, not four—thus begins a three-race series to see who runs faster. "Outrun by a dumb bird!" Wesley mutters after the first race.
The "Wesley to the Rescue" story begins when an excited Mrs. Mockingbird brings news that an intruder is loose in Wesley's territory. Puzzled, Wesley rushes to investigate. What he discovers leads to a heart-thumping chase and a chilling confrontation fueled by ancient instincts that ends with... but that's for the story to tell.
Readers can purchase "Wesley's Adventures: 'Who Runs Faster?' Stories" at bookstores everywhere, or online at the Apple iTunes store, Amazon, or Barnes and Noble.
Covenant Books is an international Christian owned and operated publishing house based in Murrells Inlet, South Carolina. Covenant Books specializes in all genres of work which appeal to the Christian market. For additional information or media inquiries, contact Covenant Books at 843-507-8373.
Source: Covenant Books
---
Categories: Books
Tags: "Wesley's Adventures: 'Who Runs Faster?' Stories", author, Covenant Books, Dale M. Walsh
---