Criminal Defense Attorney Shannon Davis Documents Her Journey With C-PTSD to Give Other Sufferers a Voice
Press Release
-
updated: Feb 14, 2019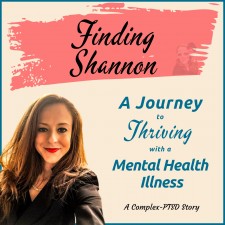 WAYNESVILLE, N.C., February 14, 2019 (Newswire.com) - Finding Shannon, a new, independent, self-produced podcast documenting the ups and downs of life with C-PTSD, now airs weekly on Mental Health News Radio Network. 
From juggling a career as a criminal defense attorney, her family and life in a dangerous city to anxiety, depression and disassociation, Shannon Davis was diagnosed in August 2018 with C-PTSD. 
Self-described former overachiever Davis settled on an audio format to chronicle her C-PTSD journey after forays into blogging and YouTube content production. She says, "You can hear the emotion without having to put makeup on."
Each week Davis shares her successes, failures and dark moments openly and honestly. Topics include potentially distressing subjects including suicidal ideation and self-harm. 
Finding Shannon is not a recovery instruction manual. It is a sometimes painful, sometimes triumphant, always authentic reminder to listeners struggling with C-PTSD that the same path is not right for everyone and that they can get through this, one panic attack at a time.
Davis says, "I'm an attorney, so I like to run my mouth.  But really... it's about helping give others with C-PTSD a voice. My message is: stop letting society dictate what your priorities should be. Take a step back and look around. It's not worth the pain to push yourself."
Finding Shannon first aired on Mental Health News Radio Network on December 2, 2018. Recent episodes include: "Working with a Mental Health Illness. Is it Possible?", "Putting the Pieces Together After an Identity Crisis" and "Why are Some Days so Hard?" Episodes are available via Stitcher, Apple Podcasts, Anchor FM and Mental Health News Radio Network. 
About Mental Health News Radio Network
Mental Health News Radio Network hosts over 30 podcasts covering all aspects of mental and behavioral health and well-being. Its mission is to combat mental health stigma through advocacy, education and dialogue. MHNR Network podcasters run the gamut from leading mental health professionals and coaches to peer specialists and addiction recovery advocates. To date, MHNR Network has aired over 10,000 episodes and has listeners in over 170 countries. It is the world's largest podcast network dedicated solely to mental health and well-being content.
Contacts
To book MHNR Network podcasters or CEO for your media outlet: info@mhnrnetwork.com
For all PR enquiries contact Ryan McCormick via our PR Team: Ryan@goldmanmccormick.com
Twitter: @MHNRNetwork
Instagram: @MHNRNetwork
Facebook: Mental Health News Radio Network
Source: Mental Health News Radio Network
---
Categories: Psychiatry and Psychology
Tags: depression and anxiety, psychology, ptsd, self help, women and health
---