COVID Color Therapy: Vibrant Gem Masks Evoke Happiness
Tashka by Beatrice blends a rainbow of creativity with personal COVID safety, one mask at a time
Press Release
-
updated: May 21, 2020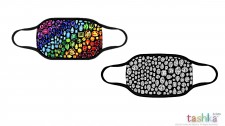 ENGLEWOOD CLIFFS, N.J., May 21, 2020 (Newswire.com) - ​​​​​​​Tashka by Beatrice, a color-intense accessories online retailer, is selling out of COVID gem-themed facial masks as quickly as she creates them.
Leveraging her Fashion Institute of Technology (FIT) education and former, front-line fashion merchandising expertise with DKNY, Beatrice borrowed from her Hungarian legacy when she launched her demi-fine jewelry company "Tashka" in 2000. Translated, "tashka" means "bag."
Naming a jewelry company "bag" may seem odd to some, but those people haven't visited www.tashkabybeatrice.com. There, a kaleidoscope of color awaits in jellybean jewelry, color-clad hoodies, color-burst umbrellas, gem-popping scarfs and, yes, bags. The vibe is humorous, fashionable and downright fun, be it in handbags, purses, clutches, and more.
Accessorizing ​in today's COVID world has forced face masks to be front and center. One designer took her pallet of passion and a trending mindset to task. Beatrice decided to put her money where her mouth is (and her nose, too). She invested in her artful gem designs printed on velvety soft, super-stylish, COVID facial masks. Offering monochromatic or multi-colored gem themes, these face masks project joy. And If joy could be measured by sales success, then Beatrice has created a happiness explosion.
"I've always been drawn to rainbows," Beatrice stated. "The seven colors of a rainbow beautifully blend and signal positivity. Rainbows are the visual calm after the storm, the mystical arch to a pot of gold, and color light reflections are proven to uplift the human spirit," she added. Neuropsychologists have proven certain hues have a profound influence on one's mood, so Tashka by Beatrice is conveying COVID color therapy to the wearer and those around them. Sky blue and indigo gem shades invite a calming sense of wellness. Rainbow gem masks impart happiness. Ruby red gemstone lip designs suggest whimsical flirtatiousness. Pearl prints resonant with sophistication and are ideal for bridal affairs. The design variety is so vast, these gem masks are selling to men and women alike.
Tashka by Beatrice's COVID gem masks are washable, trending, and transcending daily protection. The non-medical grade masks aren't for emergency responders, yet that same group is purchasing them to wear over their medical-grade masks, giving medics and patients bursts of much-needed jubilation.
In a fulfillment fury of shipping thousands of gem masks to retailers and individuals, Beatrice offers this: "We're living in very uncertain moments in time. Our COVID gem masks won't hide that fact, but they do project a very colorful distraction, and doesn't that put a smile on your face?"
TashkabyBeatrice.com/collections/face-masks-apparel will be accepting advance orders for sold-out designs, which is becoming as normal as wearing a mask in the first place.      
About Tashka by Beatrice
Levering clever designs and dynamic color, Tashka by Beatrice offers artful gem accessories imparting pure joy. With radiantly colored COVID gem masks, hue-popping umbrellas and wearable art, these design accessories produce positive emotions.
MEDIA CONTACT: 
Dan Scott, Luxe Licensing, dans@luxelicensing.com, 201.294.3697
Source: Tashka by Beatrice
Share:
---
Categories: Fashion and Apparel, Jewelry
Tags: COVD-19, COVID, face masks, fashion, gem masks, jewelry, masks, safety, style, Tashka by Beatrice, therapy, uragem
---