COVID-19 Mobile Testing Facilities Offered by North Texas Company Team Modul, LLC
Press Release
•
updated: Mar 22, 2020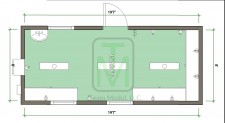 DALLAS, March 22, 2020 (Newswire.com) - Modular building service company Team Modul, LLC along with dealer partners, is offering COVID-19 containerized mobile testing centers starting March 22, 2020. Experience with hundreds of medical projects involving users such as Humana, VA, DOD, and Walgreens has led to the creation of a user friendly, secure containerized option for COVID-19 response. These mobile testing centers are fully customizable and can be equipped with a drive-through window, indoor testing workspace, and handwashing stations. Standard specifications include Nest®️ smart thermostats, steel security doors, antimicrobial wall facing, insulation, commercial HVAC system, high capacity electrical panel, and storage for up to 500 testing kits. Uses include PPE staging/storage, specimen retrieval, ancillary office space for influx of medical personnel, quarantine staging, and lab operations.
In response to the virus, Team Modul is offering a few newly finished, standard Office Containers rent-free for up to six months to nonprofit health care providers, while supplies last. These particular units were produced as job site offices for leasing companies but have been idle since the CDC recommendations. Anyone interested is asked to contact TM through any social media outlet for details and to schedule delivery. Other services offered to offsite construction and modular building providers include industrial/commercial container finish outs, modular building installs, mobilization, multi-structure relocation, and consulting for modular projects.
Team Modul, LLC is a 100% Woman-Owned Small Business based in North Texas that provides off-site construction services to modular building suppliers nationwide. Since 2011, TM has installed hundreds of commercial modular units, including permanent and temporary educational spaces, health care facilities, government housing, and commercial office spaces. Project footage has ranged from 150 to 50,000 sq-ft. TM is an active member of the Modular Building Institute and a licensed industrialized builder in the state of Texas.
Source: Team Modul, LLC
Tags
Related Files
Additional Links