CogniFit Releases an Innovative Online Cognitive Assessment Battery for Dyslexia
CogniFit continues to develop its large range of neuropsychological tests by including a digital cognitive evaluation designed to help screen and evaluate the risk index for the presence of dyslexia.
Press Release
-
updated: Aug 22, 2018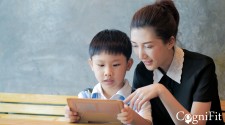 NEW YORK, August 22, 2018 (Newswire.com) - NEW YORK, August 22, 2018 (Newswire)CogniFit, a global leader in the cognitive assessment market, has developed a new cognitive assessment battery designed to help screen cognitive and relevant difficulties of dyslexia. This digital battery is a functional online tool for professionals who need clinical tests and tasks to help evaluate the presence of symptoms, traits, or dysfunctions within the cognitive processes affected by dyslexia.
Dyslexia is a learning disorder that affects more than 10% of the population. It is a neurological impairment that affects the learning process, making difficult to read, write, and easily decode language or symbols. Children with dyslexia tend to start speaking later, have weaker listening comprehension, and have fewer words in their vocabulary compared to other children their age. Dyslexia is not related to intelligence, but to the way the brain processes information.
Nowadays people are more aware of this disorder and children are better diagnosed than they used to be. However, many adults with reading and writing difficulties throughout their entire lives still have never heard of dyslexia. The worst-case scenario are adults with dyslexia that are unaware of their disorder. If left untreated, dyslexia may lead to a number of problems, such as low self-esteem, behavior problems, anxiety, aggression, and withdrawal from friends, parents, and teachers.
"As a person grows up, it becomes increasingly more difficult to diagnose and treat dyslexia. To help with this problem, we at CogniFit have designed and developed a specific assessment to help evaluate the risk of dyslexia. CogniFit Cognitive Assessment Battery for Dyslexia helps screen for writing and reading difficulties, difficulty planning tasks, motor and spatial problems, difficulty in social areas as well as impairment in different cognitive skills, such as attention, memory, perception, reasoning, and language." said CogniFit neuropsychologist Estefanía Egea on the purpose and usefulness of this tool.
The information provided in the results report, combined with a clinical history and information on the different cognitive and emotional areas helps professionals establish an accurate treatment. CogniFit recommends using this dyslexia test as a complementary tool and never as a replacement for clinical consultation.
CogniFit Cognitive Assessment Battery for Dyslexia (CAB-DX) will adapt to the user's age making it appropriate for kids 7 and older, teens, and adults. This test consists of two parts, the first part is a questionnaire based on the relevant dyslexia symptoms and the second part is aimed at assessing cognitive tasks in the form of brain games. The CAB-DX takes approximately 30 to 40 minutes to complete, and the results are available for download at the end of the test.
The CAB-DX is a professional tool created by specialists in cognitive impairment. All CogniFit cognitive tasks are patented and validated, accessible and easy to use. CogniFit is a leader in neuropsychological testing and cognitive stimulation. CogniFit brain fitness solutions are used and recognized by the scientific community, universities, foundations and medical centers around the world.
About CogniFit
CogniFit is a global leader in developing online programs to assess and train core cognitive areas such as attention, memory, coordination, perception, and reasoning. As a digital health company, CogniFit specializes in scientifically validated cognitive tests and brain training programs, all available online at www.cognifit.com.
CogniFit's patented technology has been designed by an international team of scientists, neurologists, and psychologists who investigate and combine the latest discoveries on the brain with advanced adaptive algorithms and big data analytics. For nearly 20 years, CogniFit has been developing personalized brain fitness programs with leading scientific institutions and published its results in several peer-reviewed publications.
Today a major vendor in the cognitive assessment and training market, CogniFit offers its programs to individuals and companies in various verticals, such as healthcare, education, research, health and wellness, driving and human resources. Its brain fitness solutions are available in 19 languages.
Source: CogniFit
---
Categories: Educational Technology
Tags: CogniFit, cognitive assessment, cognitive battery, dyslexia, dyslexia test, learning di
---