CogniFit Bets on User Experience by Fragmenting Its Complete Brain Fitness App Into Specific Brain-Related Cognitive Assessments and Training Programs
- User experience has become the center of technology development. - CogniFit has adapted its new products for mobile devices to further enhance user experience. - CogniFit apps have been segmented by product and are oriented to specific user needs.
Press Release
-
updated: Nov 29, 2018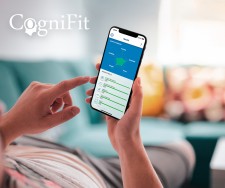 New York, NY, November 29, 2018 (Newswire.com) - Technology is at a constant rise, growing exponentially and adapting to daily life. Businesses have adapted like never before to meet technology changes and remain competitive. User experience has been established as the main feature for companies to distinguish among themselves in the digital world. New technologies, such as AI and "internet of things", have risen the stakes to what companies present to their users. The main goal nowadays is for companies to meet user expectations while still remain productive.
CogniFit, a world leader in neuropsychological testing, brain training, and cognitive stimulation, has given a great importance to this change in technology and has launched several products this year to increase user experience and meet user expectations. It noticed that more users were interested in additional tests other than the star product, the General Cognitive Assessment, which is a great tool to assess  23 different cognitive skills. Users have been searching for a more specific type of tests and training programs for different disorders. This was evidence that user expectations had risen and it helped CogniFit psychologists develop specific assessments for different neuropsychological disorders to aid users in their specific needs. To meet user demands CogniFit launched the Fibromyalgia, Depression, Dyslexia, Dyscalculia, ADHD, Parkinson's and Insomnia Cognitive Assessments for the website. These tests use clinical questions and validated tasks to quickly and accurately detect the presence of symptoms and altered cognitive processes in each of the conditions mentioned. It also helps professionals in the diagnosis process and to establish priorities during the intervention. These tests have brought computer-usage closer to mental health. However, CogniFit decided to take user experience a step further, and in order to make usability accessible anywhere, it also launched these specific tests and training programs for mobile.
CogniFit engineer Pedro Gutiérrez explains that "an ever-growing percentage of our users prefer to use their smartphone or tablet to access our services. Many of them will never use our website since they prefer not to sit in front of a computer to do their daily training. This is why we have built a better mobile experience and continue to do so every day. Our own team loves the concept of 'on the go' training by having CogniFit at their fingertips everywhere, anytime. For the engineering team, "mobile" is an exciting challenge. Our solutions must work on the web, iOS, and Android, devices with very different sizes and specifications. This is a multidisciplinary effort: it must look awesome, work flawlessly and help our users assess or train their cognitive skills."
In order to meet user needs, CogniFit has developed six iOS apps, a general cognitive app and five other apps for specific neuropsychological disorders (Fibromyalgia, Depression, Dyslexia, Dyscalculia, and ADHD). These apps allow users to assess the cognitive processes involved in each disorder and train specifically for those processes affected. CogniFit has made cognitive assessments and training programs user-friendly by incorporating specific apps for specific needs. By developing these apps, CogniFit, helps the user identify what app best suits their needs and makes it accessible anywhere they go.  This not only increases usability but it provides an excellent user experience. These apps will be available for Android soon, however, the General Cognitive App is now available in the Google Store. This year has been a great year for CogniFit and next year promises to bring other surprises to users everywhere.
For further inquiries and media interviews, please contact Thomas Mann at media@cognifit.com.
About CogniFit
CogniFit is a global leader in developing online programs to assess and train core cognitive areas such as attention, memory, coordination, perception, and reasoning. As a digital health company, CogniFit specializes in scientifically validated cognitive tests and brain training programs, all available online at www.cognifit.com.
CogniFit's patented technology has been designed by an international team of scientists, neurologists, and psychologists who investigate and combine the latest discoveries on the brain with advanced adaptive algorithms and big data analytics. For nearly 20 years, CogniFit has been developing personalized brain fitness programs with leading scientific institutions and published its results in several peer-reviewed publications.
As a major vendor in the cognitive assessment and training market, CogniFit offers its programs to individuals and companies in various verticals, such as healthcare, education, research, health and wellness, driving and human resources. Its brain fitness solutions are available in 19 languages.
Source: CogniFit
Share:
---
Categories: Healthcare and Medical Informatics
Tags: assessment test, brain fitness, brain training, CogniFit, cognitive rehabilitation, cognitive stimulation, cognitive test, cognitive training, mobile apps, user experience
---