Clarity Clinic Launches Adolescent Support Group
Press Release
•
Mar 2, 2023
Clarity Clinic's Adolescent Support Group Aims to Support More Adolescents in Their Journey to Find Clarity and Mental Wellness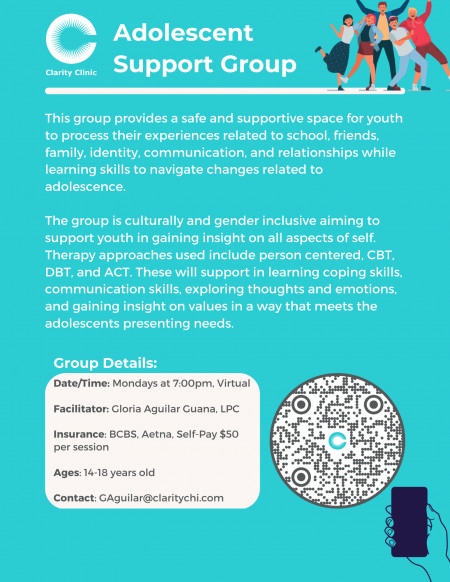 CHICAGO, March 2, 2023 (Newswire.com) - Clarity Clinic is excited to introduce a culturally and gender-inclusive group that aims to support adolescents in gaining insight into all aspects of self.
Clarity Clinic provides a safe and supportive space for youth to process their experiences related to various issues while learning skills to navigate changes related to adolescence. Tara Javidan, Director of Professional Outreach at Clarity Clinic, highlights that "now more than ever, teens need access to peer support." Clarity Clinic's Adolescent Support Group will support adolescents (14-18 years old) in developing effective coping strategies and communication skills, exploring thoughts and emotions, and gaining insight into values in a way that meets the adolescents' presenting needs. "With this new group, Clarity Clinic hopes to support more adolescents in their journey to find clarity and mental wellness," shared Tara Javidan.
There are many benefits to group therapy. In a group therapy setting, individuals will be part of a collection of people that have similar problems as their own and can share experiences in a manner that other people may not be able to fully understand. This type of connectedness provides a sense of relief and validation that individuals are not alone in their experiences. According to Adolescent Support Group facilitator Gloria Aguilar Guano, LPC, "In this group, they will be able to benefit from the connectedness and ability to relate that group therapy can offer."
About Clarity Clinic
Clarity Clinic offers leading psychiatry and therapy services with locations throughout Chicagoland, Illinois, and Northwest Indiana. Clarity Clinic is redefining mental health care through a leading network of mental health providers who thoughtfully guide the whole person on their journey to find clarity and mental wellness by providing exceptional psychiatric and therapeutic care. In-person and online psychiatry and therapy appointments can be scheduled online.
Child and Adolescent Therapy - Clarity Clinic (claritychi.com)
Source: Clarity Clinic
Related Files