CDEX Exchange: The Leading CFD Digital Asset Trading Platform in Asia
Press Release
•
May 15, 2023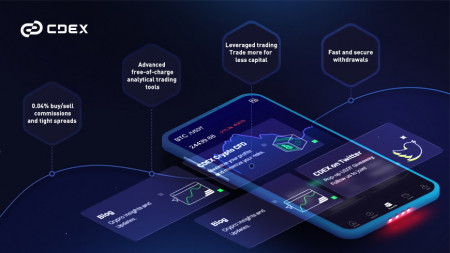 SINGAPORE, May 15, 2023 (Newswire.com) - CDEX, the latest addition to the digital asset trading landscape, is pleased to announce its official launch as a comprehensive Contract for Difference (CFD) platform. Designed to cater to the needs of cryptocurrency traders, CDEX lets users buy long and sell short to trade in different market conditions.
CDEX: The One-stop shop for all your Crypto CFD trading needs
With an unwavering commitment to user satisfaction, CDEX is set to revolutionize the world of digital asset trading. By offering competitive trade fees and low to zero spreads, the platform aims to provide traders with a seamless and cost-effective trading experience.
Competitive Fees That Makes Trading Accessible To The Retail User
CDEX prides itself on its highly competitive fee structure, with trading fees set at an industry-low rate of 0.04%. This applies to both maker and taker fees, leveling the playing field for retail traders and institutions.
Moreover, CDEX supports MetaTrader 5 (MT5) trading. Using CDEX, traders can leverage the platform's advanced features and automate their trading strategies. In the trading world where profits are determined in milliseconds, well-versed MT5 traders can secure profits consistently without having to monitor trades all day. Traders can trade up to 100x leverage.
Trade with ease with CDEX's robust and secure infrastructure
CDEX places utmost importance on the security and performance of the platform. With high throughput and low latency, the platform offers traders lightning-fast execution speeds and ensures a seamless trading experience even during peak market conditions.
CDEX is regularly audited by the best auditors in the industry, ensuring that user's funds are always safe.
Fully regulated and licensed exchange
The company is proud to have obtained a secured license from the Cyprus authorities, further solidifying its commitment to being a global and regulated exchange. Additionally, CDEX is fully licensed under FINTRAC, ensuring strict adherence to regulatory guidelines and bolstering customer trust.
Lastly, the Financial Crime Investigation Service (FCIS) has given CDEX a Crypto Exchange and Crypto Wallet license. CDEX is dedicated to combating financial crimes and money laundering.
Becoming the trading platform for Asian retail users
CDEX has already garnered a strong user base in regions such as Indonesia, Bangladesh, and India. The platform primarily caters to retail investors, providing them with an affordable, user-friendly, and secure means to trade Crypto CFDs.
By prioritizing accessibility and ease of use, CDEX aims to empower a wider audience to participate in the exciting world of digital asset trading. As CDEX continues expanding in the Asian region, the exchange plans to become the gateway to digital asset CFD trading for the retail users.
Moving forward, the company is focused on further enhancing the reliability and security of its platform. Continuous efforts will be made to refine and optimize the user experience, ensuring that traders can execute their strategies seamlessly and with confidence.
Source: CDEX