Art Plumbing, AC & Electric Announces Generac® Power Systems Select Dealer Status
Press Release
•
updated: Sep 17, 2019
Art Plumbing, AC & Electric is proud to introduce Generac® Power Systems Whole-Home Generators to its service menu. The new addition comes right in time for hurricane season, allowing homeowners to get protection from a brand they know they can trust. With professionals and specialists on call when needed, no home needs to be left in the dark unexpectedly.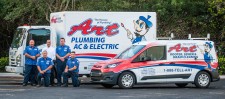 CORAL SPRINGS, Fla., September 17, 2019 (Newswire.com) - ​​​​​Art Plumbing, AC & Electric first began offering and providing electrical services three years ago. The continued success of this new service speaks for itself, as the company continues to grow and provide exceptional and expert electrical services to the South Florida community.
Generac® offers the most expansive variety of home backup generators that automatically turn on when the power goes out. Generac® home generator systems make backing up a home generator easy. Its intuitive operation, Wi-Fi enabled technology, and straight-forward power distribution sets it apart from other generic generator systems. The importance of backup generator systems is felt most in their absence. When a hurricane strikes, power outages are common, leaving the unprepared home without hot water, lights and the ability to cook. Reliable home generators are an important part of keeping a family safe and weathering the storm.
"We value family and only endorse products and services that we would use in our own homes. Becoming an authorized select dealer of Generac® Power Systems Whole-Home Generators was the natural choice because it allows us to provide our customers with premium technology that will add value to their lives," said Gregg D'Attile, President and CEO of Art Plumbing, AC & Electric. "Expertly designed technology like Generac® only works as intended when installed correctly by professional electricians. Our customers are like our family, and when it comes to our family, we don't cut any corners. This is how we continue to provide high-quality service to South Floridians," he concluded.
Art Plumbing, AC & Electric is certain that their expert technicians can help South Floridians get their homes hurricane-ready with Generac®.
Located at 4151 NW 124th Ave, Coral Springs, FL 33065, Art Plumbing, AC & Electric has been Florida's premier residential and commercial air conditioning, heating, indoor air quality, plumbing, electrical and water filtration service provider since 1983. For more information call (954) 752-1282.
Founded in 1959, Generac® is a leading designer and manufacturer of a wide range of power generation equipment and other power products. As a leader in power equipment serving residential, light commercial and industrial markets, Generac's power products are available globally through a broad network of independent dealers, distributors, retailers, wholesalers, and equipment rental companies, as well as sold direct to certain end user customers. For more information about Generac and its products, visit Generac.com.
Source: Art Plumbing, AC & Electric